Explore Business Development & Sales Certificate
Discover the fundamentals of business and sales with an undergraduate business development certificate. Designed for entry-level sales professionals, this certificate trains students in the principles of business development, the essential techniques to establish trust with prospective customers, and the key ways to negotiate offerings to secure a customer's purchase. Enrolling in a business development and sales certificate program hones your business acumen, develops your conflict resolution skills, and prepares you to work in both business-to-business and business-to-consumer environments.
Build Your Career Future
We understand how important it is for busy working adults to gain knowledge and expertise quickly, which is why our business and sales courses are applicable to the workplace from day one. Whether you've already earned an undergraduate degree or you're currently pursuing your bachelor's degree, a business development and sales certificate is a great way to earn a credential in the field, get your resume noticed, and demonstrate proficiency in a focused area of knowledge.
Fast Start Formula Career Bundle
Propel your career even further by upgrading your certificate with our Fast Start Formula Career Bundle designed to get you noticed and get you hired. Gain access to the Fast Start Formula Career Course, the Landing A Job You'll Love Ebook, and live webinars with "hot seat" coaching by Executive Career Coach Jen Morris.
Take the next step
Apply (It's FREE & FAST!)
Academic Excellence and Recognition

Regionally accredited by the New England Commission of Higher Education

Ranked among the Best Online Bachelor's Programs by U.S. News & World Report

Designated as a Military Friendly School for our commitment to the military community

Named the among the best schools with accelerated bachelor's degrees by Intelligent.com
Gain New Skills With a Certificate
Business and financial occupations are expected to grow 8% from 2020 to 2030, as a result of an increasingly complex global business landscape.* Additionally, entry-level positions – like inside sales representatives and sales development representatives – yield a median annual base salary of $45,000 plus commissions.** 
*Source: Bureau of Labor Statistics (BLS), 2020
**Source: PayScale, 2021
Top Reasons To Earn a Certificate
Climb the Career Ladder
Build New Skills
Earn a Recognized Credential
Differentiate Your Resume
Test a New Field
Pursue a Passion
Demonstrate Subject Matter Expertise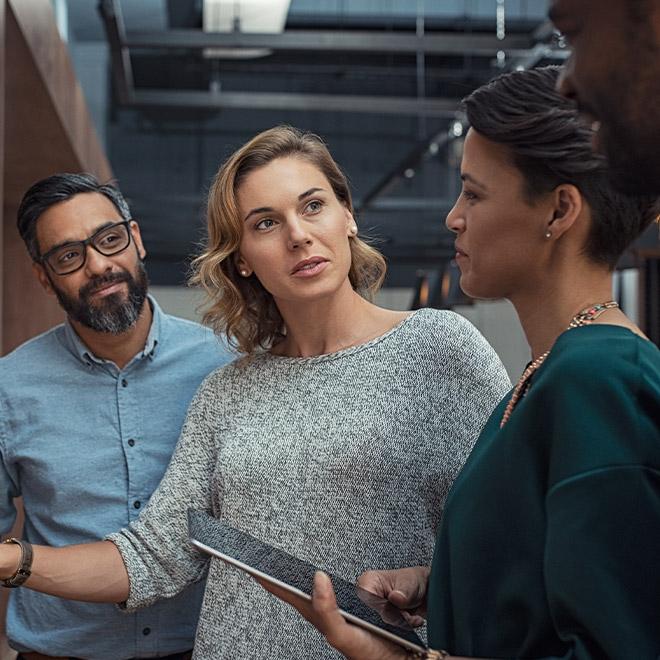 Program Details
Learn more about Champlain's 100% online business development and sales undergraduate certificate, designed for working professionals.
Champlain's online business development and sales courses encompass the top skills needed by today's sales professionals.
Required Courses
The American Marketing Association defines Marketing as the activity, set of institutions, and processes for creating, communicating, delivering, and exchanging offerings that have value for customers, clients, partners, and society at large. In this course, students will learn marketing terminology and principles including the marketing mix, marketing segmentation and how external forces impact marketing strategy as well as how marketing fits into the organization.The impact of ethical issues, diversity, globalization and social responsibility on marketing decisions will also be examined.
This course explores the psychological and behavioral factors that influence consumer decision-making. Through a combination of theoretical and applied approaches, students will examine how individuals acquire, process, and use information to make purchasing decisions. Topics include the impact of social and cultural factors on consumer behavior, the role of emotions in decision-making, and the effects of marketing and advertising on consumer choices. Students will apply their knowledge of consumer behavior to the development of buyer personas for an organization.
Students will learn how to nurture and identify qualified leads and how to turn those leads into returning customers as they examine the role of sales and business development in the organization. Through role-play activities students will experience the sales process, as they practice how to overcome objections. Students will assess their own sales style and will earn industry standard sales certifications.
Ensuring a positive experience and lasting customer/client relationships is crucial for business managers across employment sectors - public, private, and non-profit. Topics such as business process management, customer experience management, customer relationship management, customer service support, and related performance measurements and technologies are covered in this course. Assignments and discussions require application and synthesis of business knowledge and include global issues such as the generation of revenue through strong customer relationships and related outsourcing issues. Students also begin to view business as a group of integrated processes, rather than a group of functional silos.
Students will learn effective workplace negotiation skills and strategies that they can apply in a wide variety of business contexts including operations, business development, sales, and client relations. Students will explore the negotiation process, including identifying the objectives, challenges and motivations of each party, the various transactional structures that can achieve each party's objectives and the ethical, professional, political, and social issues that can arise in a business negotiation.
In the culminating course for the certificates, students will reframe knowledge and competencies from their certificate into a workable model that is applied through experiential learning models to a professional opportunity. Students will apply these competencies as professional best practice in a project that incorporates relevant research findings from the field.
Prerequisites
Completion of 15 credits certificate content courses before enrolling in this course.
Graduates of the online business development and sales certificate program will demonstrate the following industry-specific skills, knowledge, and competencies:
Identify the roles and responsibilities of Business Development and Sales Representatives in B2B and B2C environments including conducting prospect research, gauging competitive positioning, networking and forming strategic partnerships.

Identify and practice the Stages of the Inbound Sales Approach of identifying business opportunities, connecting with prospects and turning them into leads, exploring how to meet the needs of potential customers and advising buyers along the stages of the buyer's journey.

Identify and apply appropriate sales techniques for buyer personas.

Apply customer engagement strategies  to the business development and sales process.

Utilize interpersonal communication techniques to mitigate conflict and/or objections in the sales process.
Champlain College Online's business faculty, led by Department Chair Albert Orbinati, PhD, are expert practitioners in the field. Their industry expertise ensures that our business development and sales certificate curriculum is aligned with the needs of employers, and reflects the skills today's business professionals need for success. Classes led by our seasoned experts will give you real-world insight into the field, and create a rich community of career-focused learning.
Many certificate students come to us seeking ways to get noticed at their current employers or to get hired in a new field. Given that, we are hyper focused on increasing the career mobility of our students and that's why we developed the Fast Start Formula Career Bundle, a suite of career offerings designed to help our students get noticed, get hired and land jobs they'll love.
Valued at over $1,000, the career bundle is offered to Champlain College Online students and includes: 
Fast Start Formula Course: The Fast Start Formula Course for getting noticed and getting hired is taught by Jen Morris, an executive career coach that we've developed a partnership with to support our students in their job search journeys. This course is online, self-paced and full of tips and tricks to land a job you'll love.
Live Webinars: Log-on to ask your specific job search questions, get live "hot seat" coaching and gain valuable insights from leading career coach, Jen Morris.
Landing A Job You'll Love Ebook: Download this ebook full of tips and tricks for standing out from the competition. From how to optimize your LinkedIn profile, to insider information on how recruiters work and bypassing the automated application websites, you'll be sure to learn how rise to the top. 
Upon enrollment in a degree or certificate, your access to the Fast Start Formula Career Bundle will made available to you. 
Tuition & Costs
Online Undergraduate Tuition Fall '23 - Summer '24
$250
per credit for military service members (family members see truED tuition)
$150
One-time graduation fee
*Based on a 3-credit course; cost will vary if course is a different number of credits
Affordability
Cost shouldn't be a barrier to going back to school. We provide a number of options to make your online education affordable.
Meet the Program Directors
Business Development & Sales Program Directors
About
Albert Orbinati, PhD, is Assistant Professor and Program Director for the undergraduate business administration programs at Champlain College Online.
He has worked in various roles within the higher education and military arenas for over 15 years. Prior to Champlain, Dr. Orbinati's roles have included Assistant Vice President of Online Learning and Continuing Education at Medaille College in Buffalo, NY, Dean of the School of Professional and Continuing Education at The Sage Colleges in Albany, NY, and Director of Online and Non-Traditional Programs at Utica College in Utica, NY. He has also been an adjunct professor for the past eight years in Utica College's cybersecurity program.
In addition to his career in higher education, Dr. Orbinati is a member of the U.S. military, and currently holds the rank of Major in the Vermont Air National Guard and is the lead for marketing efforts in the State of Vermont.
Dr. Orbinati holds a B.A. in Urban Planning from Binghamton University, an M.A. in Adult Education from Central Michigan University, an M.B.A from Champlain College, and a Ph.D. in Adult Education from Capella University.   
Dr. Elaine Young is a Professor and the Program Director for the B.S. in Marketing Communication program and Curriculum Innovation Faculty Lead at Champlain College Online. 
As program director, Dr. Young teaches courses and manages the faculty, curriculum, and assessment for the MarCom program. She also develops courses and teaches in the MBA program. As Curriculum Innovation Faculty Lead, Dr. Young supports creation of new curriculum offerings that serve both the needs of adults continuing their education and employers who need educational opportunities for their employees. Prior to her role in Champlain College Online, Dr. Young has been part of the Champlain College community since 2000 as a professor and faculty advisor for traditional on-campus students. She is a HubSpot Educator and a Certified Appreciative Advisor.
Dr. Young has a Ph.D. in Organizational Management from Capella University, where her dissertation research examined technology use and adoption of college students. In addition, she holds an M.S. in Internet Strategy Management from Marlboro College, a B.S. in Communication and Public Relations from SUNY Brockport and an A.S. in Communication from Genesee Community College. Dr. Young has over ten years of experience in the Marketing and Public Affairs profession, specializing in nonprofits. She is the author of "Tuned-in Family: How to Cope, Communicate and Connect in a Digital World" (2014).
Request Information
Learn what you can expect from your online experience at Champlain College Online.