Explore Cybersecurity Analytics
Are you curious? Do you love data? Are you interested in learning how to collect, analyze, and interpret data to identify potential threats and vulnerabilities, assess risks, and develop effective cybersecurity strategies? In this cutting-edge 100% online master's in cybersecurity analytics designed to help students develop a unique blend of knowledge and skills, a data-driven and interdisciplinary approach is used to prepare students to tackle complex cybersecurity challenges.
The MS in Cybersecurity Analytics combines knowledge of cybersecurity essentials and threat intelligence, with knowledge of databases, scripting, and data analysis and mining, and skill-building courses like data visualization in cybersecurity and applied cybersecurity analytics. The curriculum develops the knowledge and skills to analyze cybersecurity threats and identify patterns and trends, evaluate cybersecurity strategies and governance policies using data-driven insights, and use machine learning and artificial intelligence techniques to identify and predict cybersecurity threats and vulnerabilities.
Build Your Career Future
This highly specialized online program is designed for individuals seeking to advance their careers in the cybersecurity industry. The unique combination of knowledge and skills positions graduates to support a variety of cybersecurity analytics roles, such as data analyst, security analyst, threat analyst, and risk analyst.
Take the next step
Apply (It's FREE & FAST!)
Academic Excellence and Recognition

Regionally accredited by the New England Commission of Higher Education

Ranked among the Best Online Bachelor's Programs by U.S. News & World Report

Designated as a Military Friendly School for our commitment to the military community

Named the among the best schools with accelerated bachelor's degrees by Intelligent.com
What Can I Do With an MS in Cybersecurity Analytics?
Employment of information security professionals is anticipated to grow 35 percent from 2021 to 2031, much faster than the average for all occupations. About 19,500 openings for information security analysts are projected each year, on average, over the decade. Many of those openings result from the need to replace workers who transfer to different occupations or retire.
The demand for security professionals is also on the rise due to the increasing use of encryption and cybersecurity. This trend aligns with the WEF's (World Economic Forum) 2023 Global Risks Report, which identifies cybercrime and cyber insecurity as a top 10 global risk in both the short and long term.
Potential Career Fields
Cybersecurity Analyst
Information Security Analyst
Cybersecurity Consultant
Cyber Crime Investigator
Law Enforcement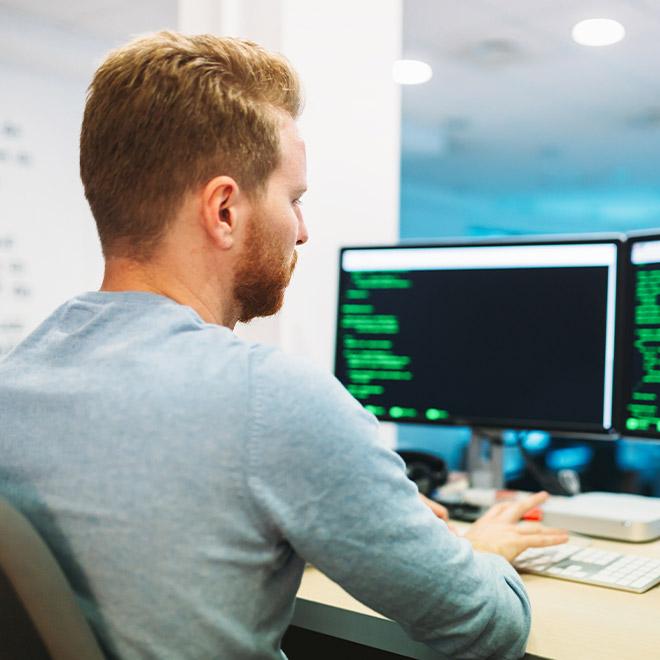 Program Details
Learn more about Champlain's 100% online master's in cybersecurity analytics program, designed for working professionals.
Champlain's online cybersecurity analytics courses encompass the top skills needed by today's cybersecurity professionals.
*Note: Some essential knowledge is required prior to admission to the program. During your application process it will be determined if you meet all requirements. Those who do not meet the requirements will have the opportunity to gain the knowledge they need by taking CMIT 500.
Required Courses
In this course students learn to differentiate relational and non-relational databases, and to design a database to an organization's requirements. Preparing raw data for import into a database, using queries to manipulate data, and developing reports to meet stakeholder needs, and database integrity and security are also covered.
Students learn to create and use scripts to access, acquire, prepare, and transform data, including structured and semi-structured data, and to define and detect patterns in unstructured data to demonstrate how real world problems can be answered with data.
In this course students learn about deep learning, machine learning, and artificial intelligence, and compare supervised and unsupervised learning. Machine learning workflows and the challenges associated with machine learning, such as bias and heteroscedasticity, are considered. Students evaluate models, and examine uses for machine learning and artificial intelligence. Natural Language Processing is also addressed.
In Data Visualization in Cybersecurity, students will explore the principles and practices of creating effective visualizations of complex cybersecurity datasets. Throughout the course, students will learn to identify patterns and trends in network traffic, system logs, and other sources of security data using visualization tools and techniques. Additionally, students will learn design principles, reflect on ethical considerations in data visualization, and apply that knowledge through hands-on work and case-studies. By the end of the course, students will have a thorough understanding of how visualizations can support decision-making in cybersecurity analytics.
As cyber threats continue to evolve, organizations need cybersecurity professionals who can leverage data analytics to detect and respond to security incidents quickly and effectively. This course provides students with the skills and knowledge needed to use data analysis and machine learning techniques to identify and mitigate cyber threats. With hands-on experience using industry-standard tools and technologies, students will be prepared to tackle complex security challenges in a wide range of industries. The course's emphasis on real-world scenarios ensures that students are well-equipped to address the practical challenges that arise in today's cybersecurity landscape.
In this course, students will demonstrate the ability to use scripting and database skills to process cybersecurity data for analysis and data analytics techniques to analyze cybersecurity threats. Students will also evaluate cybersecurity strategies and governance policies using data-driven insights, apply machine learning and artificial intelligence techniques to predict cybersecurity threats and vulnerabilities, and use data visualization to communicate complex cybersecurity data effectively. Successful completion of a Capstone Project is required.
Prerequisites
Complete 27 credits in the degree program
In this course students learn about data types and how to perform pre-processing activities including cleaning, integration, reduction, and transformation. Use of appropriate techniques to analyze and model data, such as classification, decision trees, association rules, and clustering, and the causes and methods of detecting outliers are also covered. Students propose additional applications for data mining based on current trends/research.
In this course, students examine essential cybersecurity concepts in the context of different business environments. Students explore a range of topics, including risk, vulnerabilities, security architecture and design, identity and access management, and incident response.
In this course, students learn about threat actors, and threat intelligence collection, analysis, and dissemination. Students also learn how to analyze cyber threats and develop effective countermeasures and examine the legal and ethical implications of threat intelligence gathering and sharing.
In this course, students learn how to develop and implement effective cybersecurity policies and procedures, and study legal and regulatory requirements in cybersecurity, including data protection laws and standards. Students also learn how to align cybersecurity strategies with business objectives.
In addition to developing advanced communication and analytical skills, and a strategic mindset, graduates of the cybersecurity analytics master's online program will demonstrate a mastery of the following industry-specific competencies:
Analyze cybersecurity threats and identify patterns and trends using data analytics techniques.
Evaluate the effectiveness of cybersecurity strategies and governance policies using data-driven insights.
Design and implement data visualization techniques to communicate complex cybersecurity data effectively.
Apply machine learning and artificial intelligence techniques to identify and predict cybersecurity threats and vulnerabilities.
Utilize scripting and database skills to extract, transform, and load cybersecurity data for analysis and reporting purposes.
Champlain College Online's cybersecurity faculty, led by Program Director Kathleen Hyde, are expert practitioners in the field. Their industry expertise ensures that our curriculum is aligned with the needs of employers, and reflects the skills today's cybersecurity professionals need for success. Classes led by our seasoned experts will give you real-world insight into the field and create a rich community of career-focused learning.
Tuition & Costs
Graduate Tuition Fall '23 - Summer '24
$450
per credit military service members (family members see truED tuition)
$150
One-time graduation fee
*Based on a 3-credit course; cost will vary if course is a different number of credits
Affordability
Cost shouldn't be a barrier to going back to school. We provide a number of options to make your online education affordable.
Meet The Program Director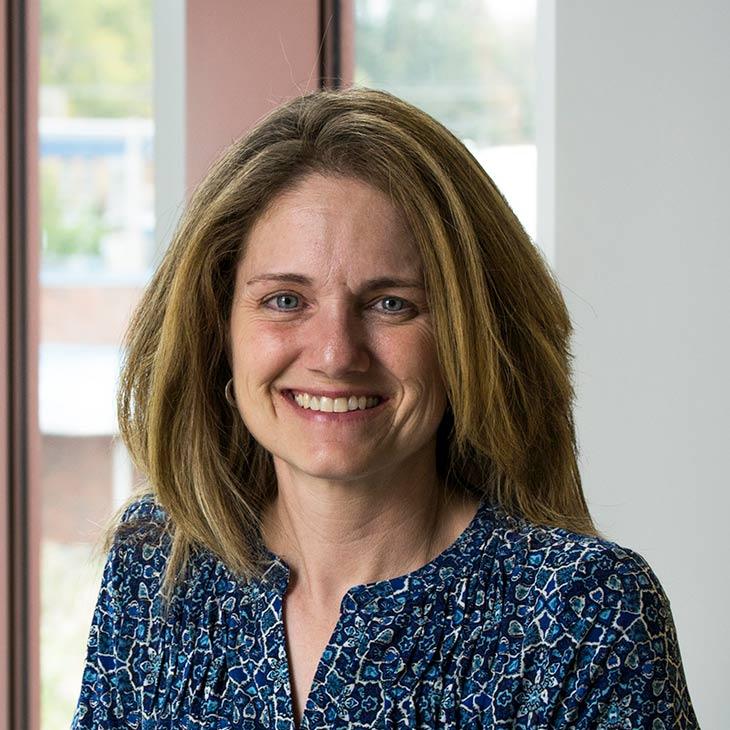 Chair, Cybersecurity Programs
Computer Forensics & Digital Investigations (B.S., Certificate)
Computer Information Systems (B.S.)
Information Security (M.S., Certificate)
Management Information Systems (B.S.)
Web Design & Development (A.S., B.S., Certificates)
About
Kathleen Hyde, MCIS, MBA, is the Chair of Cybersecurity Programs for Champlain College Online. She is responsible for the online cybersecurity and computer forensics and digital investigations undergraduate programs, as well as the M.S. in digital forensic science program.
As program director, Ms. Hyde maintains the cybersecurity and digital forensic programs' competitive and relevant edge, promotes the growth of the nation's cybersecurity workforce, and shares her passion for lifelong learning by teaching several online classes.
For more than 20 years, Ms. Hyde has provided consulting services in cybersecurity, data recovery, business continuity, and digital forensics to government, retail, finance, professional, and residential customers. She has also served as an instructor for Champlain's cybersecurity program and a subject-matter expert for course development for the past three years. Her areas of expertise and interest include insider threat detection, emerging threats and defenses, digital privacy and surveillance, and cybersecurity for educators.
Ms. Hyde holds both an MBA and an M.S. in Computer Information Studies from the University of Phoenix.
You may also be interested in
Download Program Guide
Learn what you can expect from our online master's in cybersecurity analytics program.