Explore Digital Forensic Science
Advance your career with a top-ranked, award-winning, and nationally recognized digital forensics education. Champlain's online master's in digital forensics degree develops students into scientists through an inspired, cutting-edge curriculum, closely aligned with emerging technology and new trends in the industry.
A Nationally Recognized Leader in Digital Forensics
Champlain is a nationally recognized leader in cybersecurity and computer forensics education and home of the Senator Patrick Leahy Center for Digital Investigation & Cybersecurity. With a robust faculty of expert-practitioner instructors who have significant experience working for top organizations and are sought-after thought leaders in the field, we specialize in building agile cybersecurity and digital forensics programs that the meet mission-critical needs of today's businesses, nonprofit organizations, and state and federal governments.
Champlain has been designated a National Center of Academic Excellence in Cyber Defense Education by the U.S. National Security Agency and the Department of Homeland Security since 2006, and Champlain cybersecurity programs have been named best in the nation by SC Magazine. Champlain is also designated as a National Center of Digital Forensics Academic Excellence by the Defense Cyber Crime Center (DC3) Air Force Office of Special Investigations - the fifth college in the nation to receive this distinction.
Build Your Career Future
Through this hands-on digital forensics master's degree program taught by industry experts who are working for some of the leading organizations in the field, you'll learn how to gather and utilize digital evidence and apply investigative techniques to real-world scenarios. With a focus on both technical expertise (including knowledge of over 34 scripting languages and cloud and software applications, listed below) and advanced soft skills such as leadership and communication, you'll be prepared to handle the complex demands of a career in the growing digital forensics field.
Fast Start Formula Career Offerings
Increasing your career mobility is at the center of everything we do. As an online master's degree student, you get free access to the Fast Start Formula Career Bundle for getting noticed and getting hired, taught by Jen Morris, a leading executive career coach that partners with us to support our students in their job search journeys. 
Take the next step
Apply (It's FREE & FAST!)
Academic Excellence and Recognition

Regionally accredited by the New England Commission of Higher Education

Ranked among the Best Online Bachelor's Programs by U.S. News & World Report

Designated as a Military Friendly School for our commitment to the military community

Named the among the best schools with accelerated bachelor's degrees by Intelligent.com
As network breaches and digital crimes become more prevalent, the need for highly qualified digital forensics professionals is rapidly growing in organizations across all sectors, including mid- to large-sized corporations, crime laboratories, state and national law enforcement agencies, or large municipalities. With a valuable combination of technical skills, subject matter expertise and the critical soft skills needed in leadership roles, graduates of Champlain's online digital forensics master's degree program will be competitive candidates for a variety of roles in the field.
Master's degrees are in high demand and employment in master's-level occupations is projected to grow by 15% from 2019 to 2029. A master's degree also pays off: the median salary for professionals with a master's degree is $78,210.*
*Sources: Bureau of Labor Statistics (BLS), 2020; job titles: BestColleges.com, 2020
What can you do with a degree in digital forensics?
Computer Forensics Investigator
Digital Forensics Examiner
Digital Forensics Analyst
Digital Forensics Consultant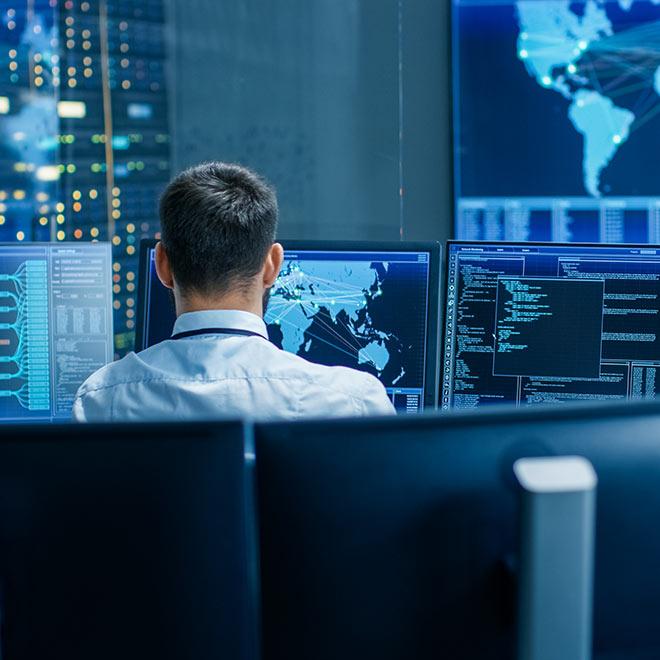 Program Details
Learn more about Champlain's 100% online master's in digital forensics program, designed for working professionals.
Champlain's online digital forensic science courses encompass the top skills needed by today's computer forensics professionals.
*Note: Some essential knowledge is required prior to admission to the MS DFS program. During your application process it will be determined if you meet all requirements. Students who meet all of them will be waived from CMIT 500 and DFS 500 and will earn a 30 credit Master of Science in Digital Forensic Science. Those who do not meet the requirements will have the opportunity to gain the knowledge they need by taking CMIT 500 and/or DFS 500 and will graduate with a 33-36 credit degree.
Digital Forensic Science Courses:
Students will develop an understanding of the components of information systems and their relationships by acquiring knowledge on a variety of foundational information technology and security topics, including computing hardware, operating systems, and applications and their development. Different types of networks, topologies, and protocols are covered in an accelerated fashion to prepare students for successful completion of their desired program(s) and analysis of basic network communications.
In this course, students will acquire explicit legal knowledge, particular computer and other digital device skills, and good oral and written forensic reporting abilities needed for successful completion of the Master's Degree. In this class students have the first contact with digital forensic software like FTK Imager, Autopsy, ProDiscover Basic, and OSForensics.
Students will be using FTK Imager, Magnet Encrypted Disk Detector, OS Forensics Volatility Workbench, Kali Linux, Reg Ripper, Network Miner, and Wireshark to develop a foundation framework for the practice of Digital investigations, including technical and managerial issues.
Students will develop the ability to write basic python scripts (WIngIDE) to help in digital investigations. Students will also interpret scripts written in other languages, like EnCase Enscript or Perl or Microsoft Powershell or UNIX Shell Script.
Students will use tools such as The Sleuth Kit and Volatility to conduct forensic analysis of PC & server operating systems and software running on those systems, while gaining a knowledge set of forensic relevant information about operating systems, including those used in mobile devices. Finally, students will look at the challenges of virtualization, including those that come with the growth of Cloud systems.
In this class, students use tools like nfdump, Snort and Wireshark for network forensic analysis in the context of the role of an incident response team.
This course will teach the concepts and techniques needed to preserve and analyze data on a range of mobile electronic devices, including mobile phones, tablets, eBook readers, and GPS systems. Some of the tools used in this course are Magnet Forensics Axiom, Access Data FTK Imager, EnCase, Cellebrite Physical Analyzer, DB Browser, and Andriller.
In this class, students will assess and discuss the legal issues currently affecting the practice of digital forensics. Some of the highlights are the study of the following topics: "Cloud Act" and "Data Nationalism"; Supreme Court's Efforts to Meet the Challenges of "Digital Evidence"; Encryption vs Privacy; and GDPR and the "Right to Be Forgotten."
The course introduces principles of digital investigations that are specific to civil litigation. While litigation support services typically utilize many of the same tools, processes, and procedures as public sector criminal investigations, private sector use of computer forensics frequently involves issues that the public sector does not often consider, such as data recovery and restoration, erasure of media, and electronic discovery. Students will examine case studies of public sector digital investigations to compare with private sector methodologies.
The capstone class is a natural conclusion to the work in the entire program. Students will approach in this class something in the digital forensic field that has not been fully developed yet and will develop and present a methodology for performing forensic investigation in a way that improves what is already known.
Choose Two:
In this course, students gain an insight into malware behavior, including infection vectors, propagation and persistence mechanisms, and artifacts. Some of the used tools are Pescanner, Xorserach, Interactive Disassembler Professional (IDA Pro), Mandiant IOC Editor, Ollydbg, Windbg, FindCrypt2, Krypto ANALyzer (KANAL), Volatility.
While using tools like Kerberos, openPGP and WireShark, students will learn encryption and hashing algorithm techniques and develop basic understanding of encryption cracking techniques and methods to counter whole-disk encryption and network based encryption.
In DFS-565, we discuss some of the challenges and decisions that confront managers, supervisors, and administrators in private and public lab environments. We will examine some of the special situations that professionals might encounter during digital forensics lab careers. This class is less focused on the technical aspects of digital forensics and more on some of the human aspects of managing people, making decisions, and managing administrative operations in the lab environment.
In addition to developing advanced communication and analytical skills, and a strategic mindset, graduates of the digital forensic science master's online program will demonstrate a mastery of the following industry-specific competencies:
Evaluate the role of evidence management in forensic examination.
Assess the legal issues affecting the practice of digital forensics.
Develop software tools for the automation of data processing, manipulation, and analysis.
Develop methodologies for the preservation and analysis of digital devices.
Conduct the forensic analysis of a variety of digital devices and data
Evaluate the efficiency and effectiveness of digital forensic methods, software, and hardware.
Effectively communicate complex scientific topics in the digital forensics to both expert and lay audiences.
Conduct independent research in the field of Digital Forensic Science.
Outline the challenges and methods for addressing the challenges of leadership of digital forensic professionals.
Access Data
Andriller
Autopsy
Cellebrite Physical Analyzer
DB Browser
EnCase Encript
FindCrypt2
FTK Imager
Interactive Disassembler Professional (IDA Pro)
Kali Linux
Kerberos
Krypto ANALyzer (KANAL)
Magnet Encrypted Disk Detector
Magnet Forensics Axiom
Mandiant IOC Editor
Microsoft Powershell
Network Miner
nfdump
Ollydbg
openPGP
OS Forensics Volatility Workbench
Perl
Pescanner
ProDiscover Basic
Reg Ripper
The Sleuth Kit
Snort
UNIX Shell Script
Volatility
Windbg
WIngIDE
Wireshark
Xorserach
In addition to the admission requirements for all graduate program applicants, our online master's of digital forensic science program has specific requirements that must be met.
Requisite Knowledge Requirement/Conditional Acceptance
In the application review process, all candidates for admission will be assessed for prior work experience and/or academic coursework that provides a solid foundation in the following areas:
Information Technology, including computer networks and operating systems
Digital forensic investigative techniques and laws
Criminal/judiciary system
Acceptance to the program is limited to applicants who can demonstrate knowledge of at least one of the areas above. The number of required classes to complete the program is dependent on the demonstrated ability in all three areas.
Champlain College Online's computer forensics faculty, led by Program Director Kathleen Hyde, are expert practitioners in the field. Their industry expertise ensures that our master's in digital forensics curriculum is aligned with the needs of employers, and reflects the skills today's digital forensics professionals need for success. Classes led by our seasoned experts will give you real-world insight into the field and create a rich community of career-focused learning.
Alumni of the Champlain College Online Master's in Digital Forensics program work in corporations, government organizations, law enforcement agencies, and municipalities nationwide, including:
Army Corps of Engineers
AT&T
Booz Allen Hamilton 
Bridgestone Americas
CACI International
Chevron
CSX Corporation 
Government of Ontario, Ministry of Finance 
New Britain Police Department
Department of Defense (DOD)
Department of the Treasury
Department of Homeland Security (DHS)
Department of the Treasury
Digital Forensic Certification Board 
Federal Bureau of Investigations (FBI)
GE
Kyrus Technology
L3
Mantech
Northrup Grumman
Pathoras Corporation
PWC
United States Marine Corps
Verizon
Vermont Forensic Lab
Washington County Sheriff's Office 
Titles our alumni hold include:
Analyst
Computer Forensic Analyst
Counterintelligence Specialist 
Criminal Investigator 
Digital Forensic Examiner
Digital Forensics Investigator 
Digital Forensics Specialist
Division Coordinator 
Forensic Computer Examiner 
Forensics Branch Chief
Forensic Scientist
IT Supervisor
IT Strategist 
Intelligence Analyst
Lead Incident Responder 
Security Engineer 
Senior Forensic Professional 
Senior Information Technology Specialist 
Senior Program Area Lead
Senior Security Engineer
Supervisory Special Agent 
Tuition & Costs
Graduate Tuition Fall '23 - Summer '24
$450
per credit military service members (family members see truED tuition)
$150
One-time graduation fee
*Based on a 3-credit course; cost will vary if course is a different number of credits
Affordability
Cost shouldn't be a barrier to going back to school. We provide a number of options to make your online education affordable.
Meet the Program Director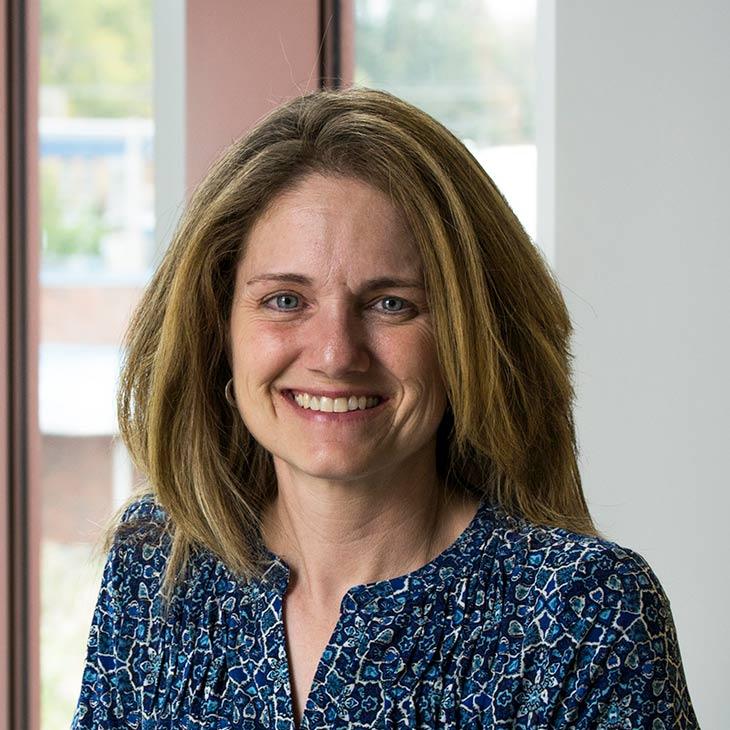 Chair, Cybersecurity Programs
Computer Forensics & Digital Investigations (B.S., Certificate)
Computer Information Systems (B.S.)
Information Security (M.S., Certificate)
Management Information Systems (B.S.)
Web Design & Development (A.S., B.S., Certificates)
About
Kathleen Hyde, MCIS, MBA, is the Chair of Cybersecurity Programs for Champlain College Online. She is responsible for the online cybersecurity and computer forensics and digital investigations undergraduate programs, as well as the M.S. in digital forensic science program.
As program director, Ms. Hyde maintains the cybersecurity and digital forensic programs' competitive and relevant edge, promotes the growth of the nation's cybersecurity workforce, and shares her passion for lifelong learning by teaching several online classes.
For more than 20 years, Ms. Hyde has provided consulting services in cybersecurity, data recovery, business continuity, and digital forensics to government, retail, finance, professional, and residential customers. She has also served as an instructor for Champlain's cybersecurity program and a subject-matter expert for course development for the past three years. Her areas of expertise and interest include insider threat detection, emerging threats and defenses, digital privacy and surveillance, and cybersecurity for educators.
Ms. Hyde holds both an MBA and an M.S. in Computer Information Studies from the University of Phoenix.
Online Experience
"Sometimes I got up early and used 5AM to 7AM to do my homework, and then if I had a break throughout the day, I could hop on my phone or tablet and access the online classroom through the app. Champlain makes going to school really accessible and easy."
Crystal Collins
Bachelor's in Computer Forensics & Digital Investigation
You may also be interested in
Download Program Guide
Learn what you can expect from our online master's in digital forensics program.