Explore Healthcare Administration
Make measurable change in healthcare environments with a cutting-edge healthcare administration degree. Champlain's online master's in healthcare administration challenges you to think boldly and innovatively, and arms you with the technical knowledge, interdisciplinary strategies, and creative problem-solving techniques needed to become a change agent in your organization.
Build Your Career Future
Champlain's master's in healthcare administration will equip you with the skills needed to increase efficiencies, foster collaboration, and make measurable improvements to patient access and quality of care in a variety of healthcare settings. With a comprehensive, interdisciplinary education that encompasses quality and process improvement, human resources, finance, leadership, and information systems, as well as key soft skills like communication and critical thinking, graduates of Champlain's online MHA degree program will be prepared to take on the challenges faced by today's healthcare organizations.
Fast Start Formula Career Bundle
Propel your career even further with our Fast Start Formula Career Bundle designed to get you noticed and get you hired. Gain access to the Fast Start Formula Career Course, the Landing A Job You'll Love Ebook, and live webinars with "hot seat" coaching by Executive Career Coach Jen Morris.
Take the next step
Apply (It's FREE & FAST!)
Academic Excellence and Recognition

Regionally accredited by the New England Commission of Higher Education

Ranked among the Best Online Bachelor's Programs by U.S. News & World Report

Designated as a Military Friendly School for our commitment to the military community

Named the among the best schools with accelerated bachelor's degrees by Intelligent.com
As an experienced healthcare professional, you are more than familiar with the complexities and challenges that face the healthcare field, and are optimistic about the opportunity to bring fresh thinking to the industry. With a valuable combination of healthcare expertise and the critical soft skills needed in advanced roles, graduates of Champlain's master's in healthcare administration program will be prepared to pursue leadership roles in the field.
Healthcare administration occupations are expected to grow 32% between 2019 and 2029, much faster than the average for all occupations, due to an increased demand for healthcare services as the population ages. The median annual salary for these roles is $104,280 per year.* Additionally, master's degrees are in high demand and employment in master's-level occupations is projected to grow by 15% from 2019 to 2029. A master's degree also pays off: the median salary for professionals with a master's degree is $78,210.*
*Sources: Bureau of Labor Statistics (BLS), 2020; job titles: Payscale, 2020
Top Jobs for Master's in Healthcare Administration Graduates
Chief Executive Officer
Chief Operations Officer
Clinic Manager
Health Care Consultant
Health Services Manager
Hospital Administrator
Nursing Director
Program Manager
Program Details
Learn more about Champlain's 100% online master's in healthcare administration program, designed for working professionals.
Champlain's online healthcare administration courses encompass the top skills needed by today's healthcare professionals. 
Healthcare Administration Courses (30 Credits):
Students learn about the U.S. health care system, including the government's role in the industry, cost and quality issues, managed care, reimbursement mechanisms, legal and regulatory issues, profit vs. non-profit care, the role of technology, and then compare it to international health care systems. Students will begin to conceptualize new models of delivery through analysis of barriers to process improvement and the use of design thinking and analytics. Students will appraise development, implementation and management of system components.
This course is designed to introduce a systemic process for planning, organizing and controlling healthcare projects using design thinking and innovation. The course presents a practical methodology for completing projects more quickly with fewer problems. Student work consists of readings, research, class special-topic presentations, group activities, a project management journal, and participation in a real world healthcare project. Students will be encouraged to apply project-management techniques to solve existing real-world healthcare business problems using design thinking and innovation.
Prerequisites
Complete HCMT-515 concurrently or prior to HCMT-545.
Managing information as a strategic resource is challenging. Students will design IT systems to capture, combine, and transform data into information to measure processes/outcomes of care, support clinical decision-making and management decisions, empower patients, and improve health care operations. Students explore health information systems within the context of associated business processes to develop innovative solutions. Management of change as related to clinical systems will also be stressed to help build buy-in, engage individuals and ultimately improve workflow and system design.
Students gain systemic overview of the financial operations of common healthcare organizations, both public and private and an understanding of various financial components enabling health services to be delivered. Students identify key issues confronting the financial management of healthcare systems and provide innovative strategies for effective management of these financial management challenges. Topics explored include traditional and innovative financial management techniques and data analytical methods applied to healthcare settings, as well as financial management challenges unique to the industry.
Prerequisites
Complete HCMT-515 concurrently or prior to HCMT-527.
Students learn to apply elements of regulation, law and ethics to the administrative process in a variety of healthcare settings and situations. Healthcare administrators can avoid many legal disputes by understanding basic concepts such as patient rights, informed consent and privacy regulations. Course themes include the legal barriers that interfere with process improvement, malpractice, and the limits on sharing information across institutions. Students analyze recent legal developments, including the Affordable Care Act, medical marijuana, and right to die legislation.
Prerequisites
Complete HCMT-515 concurrently or prior to HCMT-535.
The complexity of today's health care environments challenges organizations to become adaptive and innovative. Everyone must find a way to adopt new leadership skills for health care organizational survival. Students learn to meet this challendge wherever they will exert influence in an organization by developing knowledge and skills to effectively lead change, including communicating with others in the organization, identification of how change is accomplished and impacts people, and affects organizational relationships and ultimately, patient outcomes.
Prerequisites
Complete HCMT-515 and HCMT-545
Students learn organization analysis from a holistic perspective. Financial reports and financial ratios are the basis for traditional organizational analysis and builds from that foundation into the analysis of customer, supplier and employee metrics. Focus is on the Balanced Scorecard and other holistic approaches.
Prerequisites
MBA 507 or equivalent knowledge and HCMT-527
Students learn about healthcare organizational measurements, assessments and improvement practices related to the quality of healthcare services and examine and analyze traditional and innovative quality, structure and process assessments including risk management, credentialing and the role of oversight agencies. They will then develop innovative applications of outcomes-based process improvement methods, focusing on rapid cycle tools such as PDSA, and utilizing data analytical methods that result in improved patient outcomes.
Talent management is the process of attracting and retaining skilled employees and cultivating critical knowledge and skills, recognizing that quality employees drive business success. Using a strategic perspective, students learn to recognize and develop talents, evaluate performance and influence behavior, using data analysis and innovation to drive organizational success. Additionally, students focus on the interrelationship between organizational culture and traditional human resources functions. Other themes include ethical issues, the global workforce and links between social responsibility, culture and business success.
Students review and apply skills gained through the program to an independent healthcare project. Students develop a project plan; establish objectives collect and analyze information and deliver a final product with the support of a faculty advisor. This experience provides an opportunity to observe, apply and develop technical, interpersonal, and conceptual skills while integrating leadership expertise and knowledge of healthcare administration to improve healthcare delivery.
Prerequisites
Complete HCMT-555 and HCMT-560.
In addition to developing advanced communication and analytical skills, and a strategic mindset, graduates of the healthcare administration master's online program will demonstrate a mastery of the following industry-specific competencies:
Analyzes the financial performance of healthcare organizations and recommends approaches to improve financial results
Applies and integrates information technology to improve patient care, outcomes, and quality
Demonstrates ability to lead change in health care organizations through strategic thinking, collaboration, and communication for impact
Constructs practices that optimize the performance of the health care workforce, aligning personnel and processes to meet the strategic goals of the organization
Integrates ongoing self-assessment and self-reflection into action plans for future professional growth in support of the advancement of healthcare systems
Integrates ethics, privacy and security, governing law, and regulatory structures to maintain optimal organizational effectiveness and compliance
In addition to the admission requirements for all graduate program applicants, our online master's of healthcare administration program has specific requirements that must be met.
Related Work Experience Requirement
We expect that applicants have a minimum of 2 years experience or current employment in a healthcare setting with opportunities for applying new skills. Applicants with limited work experience will be considered on a case-by-case basis.
Champlain College Online's healthcare administration faculty are expert practitioners in the field. Their industry expertise ensures that our master's in healthcare administration curriculum is aligned with the needs of employers, and reflects the skills today's healthcare professionals need for success. Classes led by our seasoned experts will give you real-world insight into the field and create a rich community of career-focused learning.
Alumni of the Champlain College Online master's in healthcare administration program work in healthcare organizations nationwide, including:
Aetna U.S. Healthcare
Burlington Housing Authority
Central Vermont Medical Center
Child & Family Services 
CIGNA
Dartmouth Hitchcock Medical Center
Department of Defense (DOD)
Humana
Inova Health System
North Country Hospital 
Northwestern Medical Center 
Rex Healthcare
Rutland Regional Medical Center 
Spartanburg Regional Medical Center 
Veterans Administration
Veterans Affairs
University of Vermont Medical Center
Veterans Affairs
Wageworks 
Titles our alumni hold include:
Administrator
Assistant Director of Operations
CEO
Director of Community Relations 
Director of Marketing
Director of Materials Management 
Director of Performance & Productivity
Health Outcomes Liaison 
Health Systems Specialist
Licensed Nurse Practitioner
Management Analyst
Patient Benefits Advisor
Practice Manager
Principal Technical Consultant 
Nurse Consultant 
Radiology Supervisor 
Team Leader
VP of Hospitalist Services 
Vice President of Rehabilitation 
Many students come to us seeking ways to get noticed at their current employers or to get hired in a new field. Given that, we are hyper focused on increasing the career mobility of our students and that's why we developed the Fast Start Formula Career Bundle, a suite of career offerings designed to help our students get noticed, get hired and land jobs they'll love.
Valued at over $1,000, the career bundle is offered to Champlain College Online students and includes:
Fast Start Formula Course: The Fast Start Formula Course for getting noticed and getting hired is taught by Jen Morris, an executive career coach that we've developed a partnership with to support our students in their job search journeys. This course is online, self-paced and full of tips and tricks to land a job you'll love.
Live Webinars: Log-on to ask your specific job search questions, get live "hot seat" coaching and gain valuable insights from leading career coach, Jen Morris.
Landing A Job You'll Love Ebook: Download this ebook full of tips and tricks for standing out from the competition. From how to optimize your LinkedIn profile, to insider information on how recruiters work and bypassing the automated application websites, you'll be sure to learn how to rise to the top.
Upon enrollment in a degree or certificate, your access to the Fast Start Formula Career Bundle will made available to you.
Tuition & Costs
Graduate Tuition Fall '23 - Summer '24
$450
per credit military service members (family members see truED tuition)
$150
One-time graduation fee
*Based on a 3-credit course; cost will vary if course is a different number of credits
Affordability
Cost shouldn't be a barrier to going back to school. We provide a number of options to make your online education affordable.
Meet the Program Director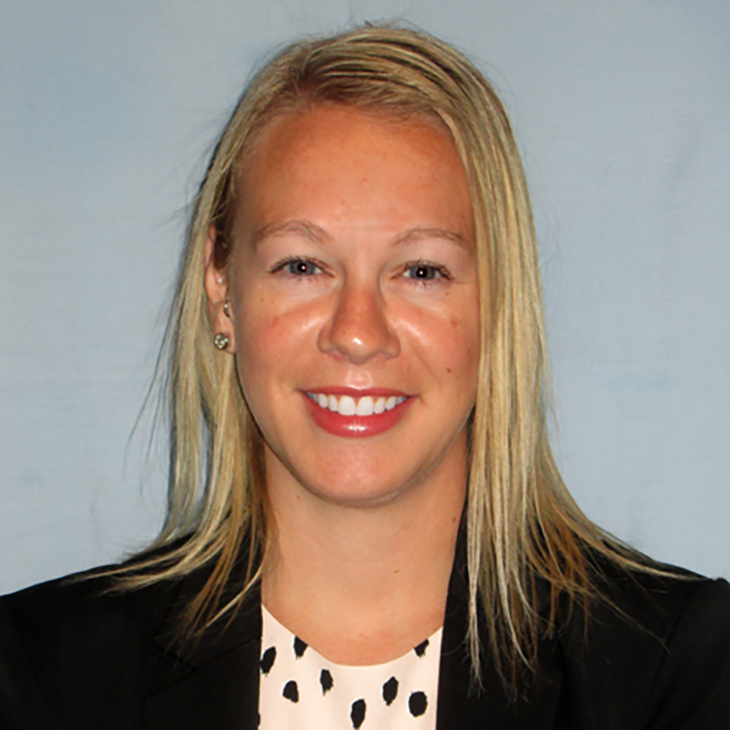 Lanaya Sandberg
MBA
MS Healthcare Administration
BS, Healthcare Administration
MS, Healthcare Administration
About
Lanaya Sandberg is Assistant Professor and Director of the undergraduate and graduate Healthcare Administration programs at Champlain College Online. She has worked in various roles within the healthcare delivery system over the course of her career, beginning initially in provider contracting for managed care organizations before working on mergers and acquisitions, operational and strategic planning, and dental benefits administration. She has held positions as Chief of Staff, Associate Vice President, and Director during her time working in management support, client engagement, strategy and provider network management, and revenue cycle management.
Lanaya is a three-time graduate from Champlain College, having earned a bachelor's degree in Business Administration, an MBA, and a master's degree in Healthcare Administration. She is a Certified Physician Practice Manager, a Certified Professional Compliance Officer, earned her Fellow, Academy for Healthcare Management credential, and has her Lean Six Sigma Green Belt certification.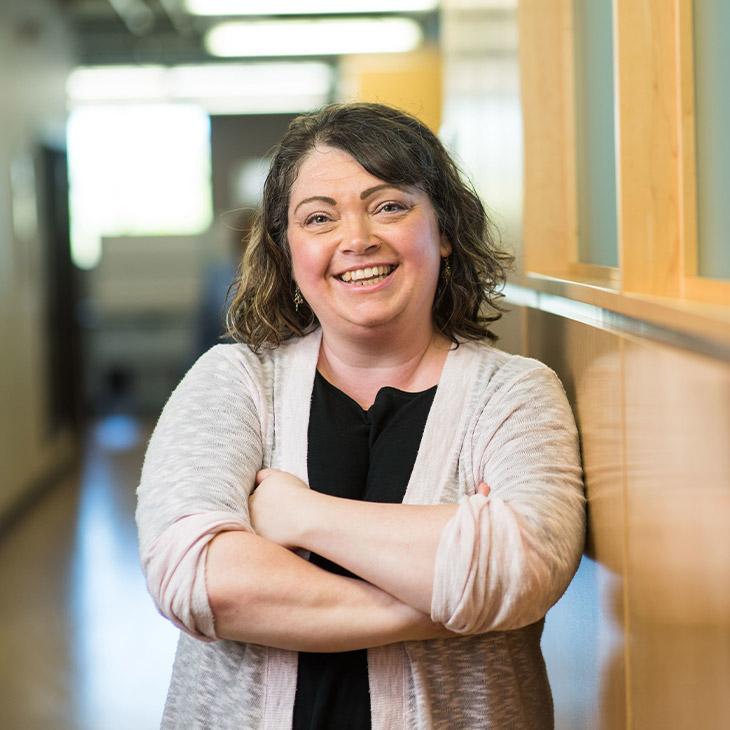 Online Experience
"I was 100% certain I would only do my bachelor's, but great advising led me to apply for the master's program. Going back to school helped me pursue further dreams and eventually be promoted, and gave me confidence in my own abilities and skillset."
Vanessa Goodwin
Bachelor's & Master's Degrees in Healthcare Administration
Program Administrator, UVM Medical Center
You may also be interested in
Download Program Guide
Learn what you can expect from our online master's in healthcare administration program.