Explore Healthcare Administration
Anchored in the real world of healthcare and led by expert-practitioner instructors, Champlain's online healthcare administration degree challenges you to think about the healthcare industry differently. You'll emerge from the program with a clear understanding of the challenges and opportunities in the field, the strategic vision to enact change in the workplace, and the ability to create innovative solutions to address complex problems.
Build Your Career Future
In the fast-growing healthcare administration field, bachelor's degrees are increasingly in demand and are a great way to advance your career. You'll have a competitive edge with a strong foundation of industry-focused technical, legal, and strategic skills, as well as the key soft skills (such as communication and leadership) required to be an effective healthcare administration professional. You'll also have the opportunity to build your credentials as you go and showcase your expertise by earning a  certificate, meaning you can begin to apply your learnings to your workplace well before program completion.
Take the next step
Apply (It's FREE & FAST!)
Academic Excellence and Recognition

Designated among Best Online BS and MS in Healthcare Administration by Intelligent.com

Ranked among the Most Affordable Bachelor's Degrees in Healthcare Administration

Consistently ranked among the Best Online Bachelor's Degree Programs by US News & World Report

Accredited by the New England Commission of Higher Education
What Can You Do With A Degree In Healthcare Administration?
Graduates of Champlain's online healthcare administration degree program will be prepared to plan, direct, or coordinate health and medical services in a variety of different settings, including hospitals, private practices, skilled nursing facilities, insurance companies, public health facilities, and more.
Healthcare administration occupations are expected to grow 32% between 2019 and 2029, much faster than the average for all occupations, due to an increased demand for healthcare services as the population ages. The median annual salary for these roles is $104,280 per year.*
*Sources: Bureau of Labor Statistics (BLS), 2020; job titles: Monster.com, 2020
Top Jobs for Bachelor's in Health Care Administration Graduates
Administrative Medical Assistant
Business Development Associate
Financial Manager
Healthcare Financial Consultant
Hospital Administrator
Human Resources Manager
Information Technology Specialist
Office Manager
Program Reimbursement Specialist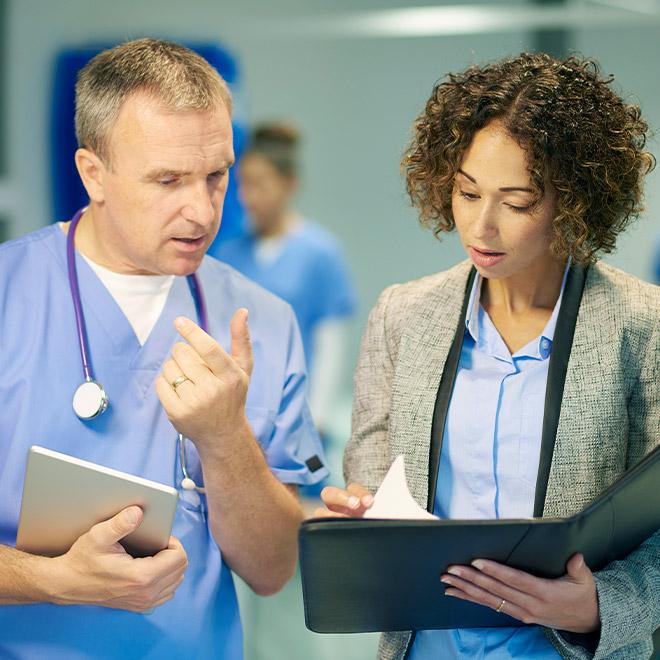 Program Details
Learn more about Champlain's 100% online healthcare administration bachelor's degree, designed for working professionals.
Champlain's online healthcare administration courses encompass the top skills needed by today's healthcare professionals. Graduates of the program are required to complete the following courses.
Professional Courses (66 credits)
General Education Courses (42 credits)
General Electives (12 credits)
Professional Courses
Students gain a systematic overview of the U.S. health care system, including the role of the public and private sectors. Federal and state health policy and legislation are examined in depth. Students develop an understanding of the complex social and environmental issues that are driving the need for quality improvement, performance measurement and the use of information systems. They become familiar with the various mechanisms through which health services are delivered and also compare the U.S. health care system to other systems outside the U.S.
Students will learn about the application of positive individual and group strengths and capacities that can be recognized, evaluated, and expanded to advance organizational well-being. This course encourages students to apply positive organizational behavior processes to everyday challenges organizations face to drive positive workplace behaviors and outcomes. This course also helps students to practice and gain skills, knowledge, and competencies to become positive and impactful leaders and change-makers from whatever position they hold.
Project Management is the formal application of knowledge, skills, tools, and techniques to project-based activities to meet organizational requirements. Project management is accomplished through the use of processes such as Initiating, Planning, Executing, Monitoring and Controlling, and Closing. Project managers can divide projects into these phases to provide better management control with appropriate links to the ongoing operations of the organization. Collectively, these phases, known as the project life cycle, form the foundation for the practice of project management and are guided by the Body of Knowledge from the Project Management Institute (PMI).
The traditional practice of project management is based on the notion that the customer can understand and articulate his or her requirements fully and up front. Unfortunately, this is rarely the case and often customers either don't understand precisely what they need or, more often, will know it when they see it. This is where Agile Project Management comes in. Whether you are managing a project, are on the forefront of a new business venture, or are developing new business processes, Agile Project Management can help managers meet their goals without compromising business value or quality. This course will provide a foundation in Agile and build competencies in Agile Project Management through simulation, case study analysis, and software. Students will receive hands-on experience with agile and scrum processes in a class project. Students will also investigate Agile value principles, release planning, portfolio governance, and the Scrum methodology.
Prerequisites
Complete MGMT-260 OR MGMT-262
Addresses the opportunities and problems involved in managing human dynamics in organizations. Identifies intervention techniques, theories, principles, and values involved in planned change processes for organization development and organizational transformation. Reviews and applies behavioral science theory and practice.
Students examine the role of information systems in achieving performance improvement in health care delivery, and develop the skills necessary to manage information systems. Students learn to manage health information technology to improve patient care, comply with federal and state regulations, and increase clinical and operational efficiencies.
Students gain a systematic overview of the financial operations of common health care organizations, both public and private. They gain knowledge about various financial techniques and tools applied to health care settings including revenue stream management, budgeting and resource management allocation, and third party payer management. Students identify and analyze key issues confronting the financial management of health care systems and provide strategies for effective management of these financial challenges. This course will emphasize the intersection and integration of health resources management, both clinical and financial, in quality improvement efforts.
Prerequisites
Complete one of these groups: HCMT-210 and MGMT-230 (Financial Systems for Management) OR HCMT-210 and ACCT-130 (Financial Acct.) and ACCT-140-(Managerial Acct.)
Human Resource professionals have to be keenly aware of the employee lifecycle (ELC) - a method used to visualize how an employee engages with a company. The first stage of the ELC is attraction. Regardless of how strong your company is, without attracting great talent, your company will fail.?The second stage, recruitment, is the period where you seek out and recruit the best talent to join your organization.
Students learn about the laws, government policies and guidelines, and ethical considerations related to the operation of health care systems. Within this context, students explore HIPAA, informed consent, health IT compliance, anti-trust issues and organizational structures in health care. Students focus on the implications of laws and regulations on the management of health care services, particularly with respect to information systems, costs and, day-to-day operations.
Explores health communication as an emerging specialty in the health care field. We foster a broad-based conceptual understanding of health communication and its role in the contemporary U.S. health care system. Students consider the intersection of health and communication, emphasizing evidence-based approaches and ethical frameworks for research and practice. Areas of research include: provider-patient interaction, social support networks, health information and technology systems, medical ethics, health policy, and health promotion.
Students learn about computerized clinical information systems and computer-based patient information management. They explore health information systems within the context of the work environment, and associated business processes, with emphasis on clinical data and emerging clinical technologies. Students gain skills in managing change in clinical systems to build buy-in, engage individuals and ultimately change workflow. Students learn how cost-benefit analysis, return on investment, requests for proposals, and depreciation affect decision-making.
Students gain an understanding of the health care industry's organizational performance measures and assessments related to the improvement of healthcare service quality. Topics explored include traditional quality, structure and process assessments including risk management, credentialing and the role of oversight agencies; outcomes-based process improvement methods focusing on rapid-cycle tools, such as PDSA, and using small tests of change. Students apply measures and assessments directly to the complex issues and concerns of health care administration.
Accounting is the language of business. This course introduces the student to accounting from the point of view of the user of financial reports and is appropriate for personal as well as business applications. Students explore the impact of transactions on the financial position and profitability of a business, and analyze financial reports of real-world corporations.
Managerial accounting focuses on the needs of management for accounting information to make informed decisions in the internal operations of a company. Topics include decision-making, accounting for planning and control, cost-volume-profit relationships, and budgeting.
Provides an overview of the entire legal system, with an emphasis on contract rights. Discusses the essential elements of a contract, the breach of contracts and the remedies for breach. Presents business and consumer laws, including white-collar crime, landlord-tenant rights, real property interests and administrative law.
The perspectives, beliefs, and preferences of employees in today's workplace are more diverse than perhaps ever before. Today's high-performing managers are those who foster inclusive, positive, and responsive organizational cultures for their people. But with such varied perspectives, what cultural considerations make the most sense for an organization? Management in the 21st Century will teach students how to foster a workplace environment where people can flourish and are motivated to meet objectives and ambitions for the organization.
All businesses have information systems, and the vast majority of them are computerized. Students will study the development and use of information systems to achieve organizational goals. From a management perspective, students will learn how information systems enhance business processes, how to use information systems as a competitive advantage and their usefulness in integrating across organizations. Other topics include IS security, ethical issues surrounding information systems and the consequences of its international reach.
Business managers must have an understanding of how organizations are financed in order to make more informed decisions. Managers must also recognize and assess the role of investment to business operations. By exploring the Time Value of Money and applying this principle to borrowing and lending decisions, students will learn how certain financial, capital budgeting and resource allocation decisions are made. Students also will learn how business forecasting assists business managers in developing longer-term strategic plans.
Human Resource professionals manage an increasingly complex and changing workplace. Students will explore strategies for managing these complexities, including (1) employee safety, health and wellness and their impact on employees, (2) management implications of the virtual workplace, (3) the benefits of an automated human resource management system and (4) trends in managing labor relations. They will also learn about the role of corporate governance in an organization and how it plays into employee performance outcomes.
Compensation and Benefits will provide students a detailed understanding of how to develop a Total Rewards Program (TRP), and the strategic choices employers make when selecting TRP financial terms. The course covers the implementation of compensation strategies, benefits packages, work-life balance programs, performance and service recognition strategies, and career development strategies.
The American Marketing Association defines Marketing as the activity, set of institutions, and processes for creating, communicating, delivering, and exchanging offerings that have value for customers, clients, partners, and society at large. In this course, students will learn marketing terminology and principles including the marketing mix, marketing segmentation and how external forces impact marketing strategy as well as how marketing fits into the organization.The impact of ethical issues, diversity, globalization and social responsibility on marketing decisions will also be examined.
With the assistance of faculty, students develop and complete an exploratory project in health care administration, giving them the opportunity to independently integrate and apply professional and research content in a healthcare setting of their choice.
Prerequisites
HCMT-450 and 90 completed credits
Written Communication
Complete the following two courses:
This course introduces students to the foundational concepts needed to communicate effectively in writing for academic study and professional development. Students will be introduced to rhetorical modes and their role in the development of written communication. Students will also learn how to use the four stages of the writing process--prewriting, drafting, revising, and editing--to create written communication that meets its intended purpose for its intended audience.
This course builds on students' proficiency in the writing process and rhetorical modes to introduce the use of sources in written communication. Students will practice information literacy as they learn to determine information needs from sources, identify types of information resources, develop effective search strategies, and incorporate sources in written communication, legally and ethically. A minimum grade of C is required for this course to meet a general education requirement.
Prerequisites
Complete ENGL-100 with a minimum grade of C or better
Oral Communication
Complete the following course:
This course draws on fundamental concepts of contemporary communication research to help students identify and develop strategies to become effective and versatile communicators across media and settings. Students will examine and respond to a range of interpersonal situations through the critical evaluation of the three essential components of all communication: its purpose, audience, and context. Students will leave the course with the ability to reflect on and adapt their strategies to successfully and consistently communicate for a range of purposes across diverse settings.
Collaboration
Complete the following course:
This course draws on fundamental concepts of contemporary group communication research to help students identify and develop strategies to communicate effectively in small groups and teams for the cooperative purpose of advancing common goals. Students will draw on listening and responding strategies learned in COMM-130 Interpersonal Communication and apply them to communicating as a leader or member of a small group. They will also learn how to recognize and manage the types of conflicts that can arise in small groups. Prerequisite: COMM-130 Interpersonal Communication
Inquiry & Analysis
Complete the following course:
Students will learn and apply critical inquiry skills to analyze persuasive communication created by others and to develop persuasive communication/arguments of their own to solve problems in professional, civic, social, and personal contexts. Specifically, students will learn to recognize fallacies in logic; apply inductive and deductive reasoning strategies to the interpretation and development of persuasive communication; evaluate the validity of sources; and develop logically sound persuasive communication. Students will explore the roles of self-awareness, empathy, and ethics in the context of critical inquiry and the development of arguments.
Technology Literacy
Complete one of the following, unless your program requires a specific course:
This course is an historical overview, and examination of the evolution of digital, film, and print media, and their functions. Students will identify and analyze contemporary problems of the media such as the legal, social, economic and psychological implications of their relationships with society. They also will examine the ways in which marketing and PR professionals utilize the mass media channels to reach their intended target audiences.
This course explores the complex and evolving relationship between human beings and technology. Through a multi-disciplinary approach that draws on fields such as sociology, psychology, philosophy, and history, students will examine the ways in which technology has shaped human culture, identity, and values, as well as how humans have influenced and continue to influence the development, adoption and use of technology.
Quantitative Literacy
Complete the two following courses:
Mathematical reasoning, when applied to everyday and professional lives, has two dimensions: logic for deterministic situations and probabilities for non-deterministic situations. This course aims to help students develop these mathematical reasoning skills.
Accurate and appropriate visual data representation is increasingly critical in today's work environments. Students will develop skills in data organization, manipulation and interpretation in a way that supports data-driven decision-making and effective communication of numerical data
Scientific Literacy: Natural Sciences
Complete one of the following, unless your program requires a specific course:
Introduces students to the biochemistry and physiology of nutrition and exercise. Emphasis will be placed on human body systems such as musculoskeletal, digestive, respiratory and circulatory, and their relationship to nutrition and fitness. Students will also study the biochemistry of energy conversion as it relates to exercise physiology. Laboratory sessions are designed to reinforce, by a hands-on approach, the principles discussed in lecture. Course includes two laboratory hours per week.
Students learn the biology, genetics, chemistry, and physics involved in the forensic investigation of crimes. A wide range of topics are studied including DNA, entomology, fingerprinting, trace evidence, serology (blood, saliva, and semen), blood spatter, and chemical analysis of drugs, alcohol, and other compounds. Students apply their new knowledge of forensic science through the use of case studies and laboratories. This course includes two laboratory hours per week.
Prerequisites
If you have taken FOR-110 you may not take this lab science course.
Students will develop the ability to apply scientific methods to understand the natural world, to identify scientific aspects of daily life, and to evaluate the quality of scientific information based on its source and the methods used for its generation.
Diversity, Equity, Inclusion and Global/Cultural Understanding
Complete the following course:
This course will introduce students to major streams of social justice thought, including historical social justice movements, theoretical problems having to do with social equality, personal freedom, marginalization, and stigmatization, and the ways in which civic and professional communities respond to these issues.
Arts & Humanities
Complete any of the two following, unless your program requires a specific course(s):
With pressure and release, a window opens and closes, recording light on a sensor. The simple action captures the instinct, judgement, and skill of the person behind the lens. This class will begin a study of the art and craft of photography. Students will develop their vision and their understanding of how to achieve it. Solid skills will be learned and many doors will be opened.
A survey of the continuing change experienced in art since the 15th century. Students will examine how an image is achieved as well as the significance of the subject represented. Individual inquiry concerning the nature of art is encouraged.
Students learn to appreciate films through the critical analysis of various elements of mise-en-scene, cinematography, editing and sound. The course introduces the conventions of classical Hollywood cinema, considers the work of one major director (auteur), and surveys selected international and independent films. Students view and discuss films each week.
Students in the course will explore the cultural history of the music genre broadly referred to as rock. Students will explore the social, economic and political contexts that are influenced by and that influenced each style in the United States. By listening, watching, reflecting upon, discussing and writing, students will explore how music takes on meaning, personally, and culturally. Topics and themes include the relationships between and among gospel, country, funk, folk, disco, rap and hip hop; the role of business and technology in those relationships, and political or transgressive elements of rock music.
Students will apply communication theory and research to address the particular challenges to communicating effectively in organizations. Students will learn how to identify organizational communication problems, analyze those problems, and generate effective solutions. Students will examine the relationship between organizational structure and specific communicative practices, and how communication practices by organizational members establish, maintain, or change organizational culture. They will also learn how to anticipate communication deficiencies in organizations, and use communication as a means to facilitate organizational development and innovation.
Prerequisites
Complete COMM-130 or COM-100.
Specific application of common tools for writing in the working world. Students will be instructed in rhetorical strategies of professional writing including style, report formats, editing, document design, and integration of visual aids. Students will complete a semester-long writing project; oral and written reports associated with the process of problem-solving within the project will be included.
Students will learn how to create conditions for successful conflict engagement, a necessary skill for any professional. The course focuses on the foundational capacities to remain calm and connected with oneself and others. In this state students can access helpful ideas and responses and be their best selves regardless of environment. Improving facility for conflict creates stronger relationships and reduces fear. By the end of the course, students will understand that disagreement and difference can become a source of personal and interpersonal growth.
Students will become familiar with arguments originating from the following schools of ethics: virtue ethics, deontology, and utilitarianism. Students will apply these ethical schools of thought to formulate arguments, practice deliberation and assess the implications of their decisions for various stakeholders in a professional context.
Prerequisites
Must have 75 completed credits or permission of Program Director.
This course introduces students to the fundamental elements of technical writing (clear, concise, and targeted)that are common among seven forms of technical communication: email correspondence, editing,employment communication, proposals, long, formal reports,oral communication, and inventions. Through peer reviews and writing workshops, students develop the ability to write and edit text that precisely targets its audience. This course emphasizes deepening and broadening students' writing, speaking, and thinking abilities in a non-lecture-based, hands-on, discussion-centered classroom.
Social Sciences
Complete any two of the following, unless your program requires a specific course(s):
Provides a comprehensive analysis of the fundamentals of substantive criminal law. Students will learn the essential elements of crimes and the rationale underlying criminal law. The nature of jurisdiction, the criminal act, the criminal state of mind and matters affecting responsibility for criminal conduct are included.
This course focuses on the rules and procedures governing how the American criminal justice system must process individuals suspected, accused, and convicted of law violations.
This course provides students with a broad overview of the history, theory, and fundamentals of criminal investigation. Students are introduced to the basic responsibilities of investigators and protocols for report writing, evidence collection, and preparation of cases for trial. They also learn specific investigative techniques for different types of crimes, such as crimes involving violence and property, terrorism, and hate crimes, and, where appropriate, compare investigative protocols from other legal cultures.
Principles of Economics introduces the fundamental concepts of economics - the study of how people manage resources, and how they react to scarcity. This course focuses on both microeconomics (the behavior of consumers and companies) and macroeconomics (large-scale economic factors such as employment and interest rates), so that you'll gain a broad understanding of how a modern market economy functions, how decisions in business settings are informed by economics, and how economics applies to your everyday life.
Students will study important themes in the social history of the United States since the Civil War. This course allows students to expand their critical thinking skills through an examination of primary and secondary sources. Themes might include: the evolving status of women; the immigrant experience; the concept of the American dream; the paradox of freedom vs. slavery; the minority experience; the tensions between social classes. Students will be evaluated primarily on writing assignments.
A survey of the science of psychology, including an overview of human behavior in various areas such as physiopsychology, development, learning social psychology, personality and abnormal behavior.
A study of human groups, culture, the self, and human interaction. The course focuses on contemporary American society and the influence of culture on our actions and beliefs, with the goal of fostering critical thinking about our social environment.
Graduates of the healthcare administration bachelor's online program will demonstrate the following industry-specific skills, knowledge, and competencies:
Demonstrate an understanding of traditional business functional areas and how these functions are leveraged in organizations.
Demonstrate the ability to evaluate, analyze and interpret financial information, and use financial data for business decision-making.
Apply management concepts and approaches including planning for, organizing, and controlling organizational resources, preparing for and managing organizational change, and managing and leading people.
Interpret how information technology affects business operations, and utilize business technologies to their advantage.
Explain and compare the organizational elements, structure, performance, terminology, and delivery modalities for US and global healthcare systems.
Analyze the structure and interdependence of healthcare system elements and issues using critical thinking to formulate innovative system designs that improve healthcare delivery.
Exhibit and nurture, through action and affect, the attributes that facilitate effective teamwork, including those that create cross-functionality, and are manifestations of internet-based collaboration.
Use economic analysis tools to measure return on investment of change projects (including information technology systems, quality and process improvement systems), and evaluate proposed options for short and long term changes in service lines, capital expansion,  talent management, and other issues facing healthcare organizations .
Explain and compare continuous improvement processes, and using a variety of tools, design and build systems for measurement, analysis, and accountability as they apply to healthcare settings.
Create comprehensive data-driven action plans that are based on the attainment of measurable results, clear trails of accountability, and all appropriate risk assessment.
Use economic analysis tools to measure ROI of change projects - including information technology systems and quality and process improvement systems - and evaluate proposed options for short- and long-term changes in service lines, capital expansion, talent management, and other issues facing healthcare organizations.
Perform ongoing critical self-reflection from academic and work-based learning experiences, articulate the personal learning and growth that has resulted from those experiences, and integrate this into action plans for future professional growth, in support of the advancement of healthcare systems.
Create policy and processes, and execute decisions in compliance with the legal, regulatory and ethical considerations inherent in managing healthcare systems and organizations, with particular attention to information technology processes and structure and how these considerations impact all aspects of healthcare delivery.
Integrate concepts of ethics, privacy, law and regulation to achieve optimal organizational effectiveness while adhering to personal and professional values in all elements of health IT and healthcare delivery.
Develop innovative solutions to strategic, tactical and operational issues in managing healthcare systems and associated information technology through the combined use of information, organizational knowledge, talent management, and critical thinking.
Create comprehensive and useable data-driven action plans that are based on the attainment of measurable results, clear trails of accountability and all appropriate risk assessment.
Explain and compare continuous improvement processes and using a variety of tools, design and build systems for measurement, analysis and accountability as they apply to healthcare settings.
Use oral and written communication skills to meet the needs of various audiences.  Use and integrate appropriate technology and software skills to develop informative, explanatory, and persuasive presentations to a variety of audiences.
Use team, talent management, and organizational skills, supervision, and coaching techniques to effectively lead across organization, department, and work group units to meet diverse stakeholder and organizational goals in a variety of healthcare environments.
Earn a certificate  as you pursue your degree, so you can build credentials as you go. Speak to your academic advisor so they can help get you on the right pathway to reach your goal.
Champlain College Online's healthcare faculty are expert practitioners in the field. Their industry expertise ensures that our healthcare administration curriculum is aligned with the needs of employers, and reflects the skills today's healthcare professionals need for success. Classes led by our seasoned experts will give you real-world insight into the field, and create a rich community of career-focused learning.
Alumni of the Champlain College Online bachelor's in healthcare administration program work in a variety of healthcare settings nationwide, including:
Burrell Behavioral Health
Champlain Valley Physician's Hospital
Cigna
Copley Hospital
Dartmouth-Hitchcock Medical Center
Howard Center 
Methodist Health System 
New London Hospital 
Portsmouth Regional Hospital 
Primary Health Network
Rex Healthcare
Rutland Regional Medical Center
St. Mary's Medical Center 
University of Vermont Medical Center
U.S. Army
VA Medical Center 
Titles our alumni hold include:
Applications Coordinator
Business Manager
Director of Facility Operations 
Director of Health Services 
Director of Sales & Marketing 
Help Desk Technician
Pharmacy Business Manager 
Practice Support Specialist 
Purchasing Assistant 
Quality Generalist
Respiratory Therapist
Senior Radiologist 
Staff Assistant 
Supervisor, Pre-Access & Collections
Many students come to us seeking ways to get noticed at their current employers or to get hired in a new field. Given that, we are hyper focused on increasing the career mobility of our students and that's why we developed the Fast Start Formula Career Bundle, a suite of career offerings designed to help our students get noticed, get hired and land jobs they'll love.
Valued at over $1,000, the career bundle is offered to Champlain College Online students and includes:
Fast Start Formula Course: The Fast Start Formula Course for getting noticed and getting hired is taught by Jen Morris, an executive career coach that we've developed a partnership with to support our students in their job search journeys. This course is online, self-paced and full of tips and tricks to land a job you'll love.
Live Webinars: Log-on to ask your specific job search questions, get live "hot seat" coaching and gain valuable insights from leading career coach, Jen Morris.
Landing A Job You'll Love Ebook: Download this ebook full of tips and tricks for standing out from the competition. From how to optimize your LinkedIn profile, to insider information on how recruiters work and bypassing the automated application websites, you'll be sure to learn how to rise to the top.
Upon enrollment in a degree or certificate, your access to the Fast Start Formula Career Bundle will made available to you.
Tuition & Costs
Online Undergraduate Tuition Fall '23 - Summer '24
$250
per credit for military service members (family members see truED tuition)
$150
One-time graduation fee
*Based on a 3-credit course; cost will vary if course is a different number of credits
Affordability
Cost shouldn't be a barrier to going back to school. We provide a number of options to make your online education affordable.
Meet the Program Director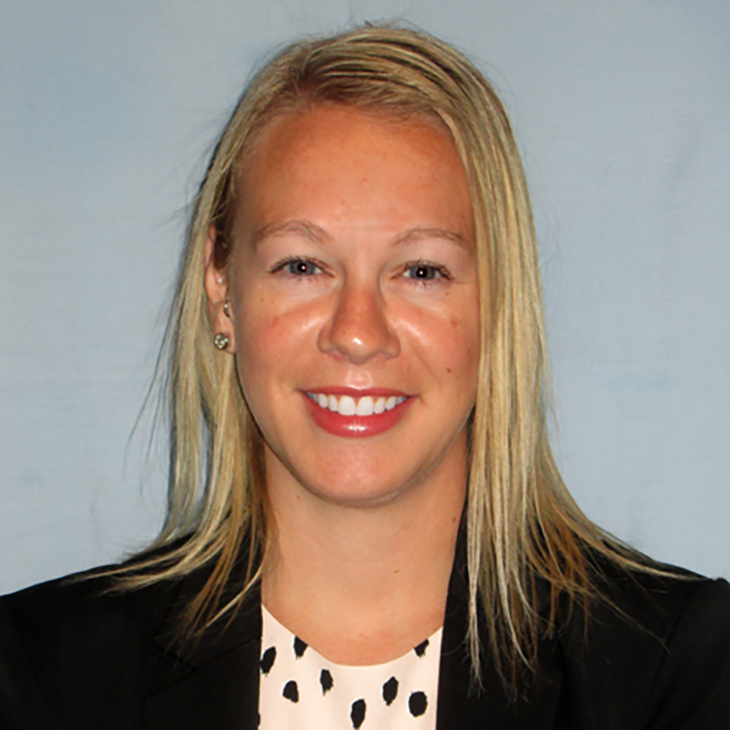 Lanaya Sandberg
MBA
MS Healthcare Administration
BS, Healthcare Administration
MS, Healthcare Administration
About
Lanaya Sandberg is Assistant Professor and Director of the undergraduate and graduate Healthcare Administration programs at Champlain College Online. She has worked in various roles within the healthcare delivery system over the course of her career, beginning initially in provider contracting for managed care organizations before working on mergers and acquisitions, operational and strategic planning, and dental benefits administration. She has held positions as Chief of Staff, Associate Vice President, and Director during her time working in management support, client engagement, strategy and provider network management, and revenue cycle management.
Lanaya is a three-time graduate from Champlain College, having earned a bachelor's degree in Business Administration, an MBA, and a master's degree in Healthcare Administration. She is a Certified Physician Practice Manager, a Certified Professional Compliance Officer, earned her Fellow, Academy for Healthcare Management credential, and has her Lean Six Sigma Green Belt certification.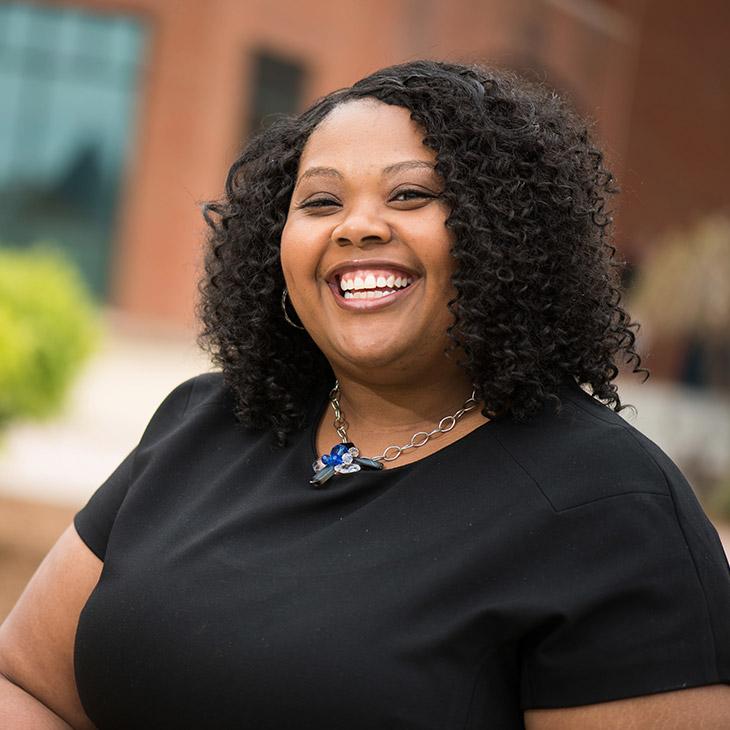 Career Growth
"Champlain stood out from the beginning. I liked that it's a smaller college, and each course in my degree program seemed to be specifically created to help students truly learn concepts that will propel them forward in a healthcare career."
Billie Matthews
Bachelor's Degree in Healthcare Administration
Buyer, Supply Chain, Methodist Health System
You may also be interested in
Download Program Guide
Learn what you can expect from our online bachelor's in healthcare administration program.