Explore Healthcare Administration
Anchored in the real world of healthcare and led by expert-practitioner instructors, Champlain's online healthcare administration degree challenges you to think about the healthcare industry differently. You'll emerge from the program with a clear understanding of the challenges and opportunities in the field, the strategic vision to enact change in the workplace, and the ability to create innovative solutions to address complex problems.
Build Your Career Future
In the fast-growing healthcare administration field, bachelor's degrees are increasingly in demand and are a great way to advance your career. You'll have a competitive edge with a strong foundation of industry-focused technical, legal, and strategic skills, as well as the key soft skills (such as communication and leadership) required to be an effective healthcare administration professional. You'll also have the opportunity to build your credentials as you go and showcase your expertise through an embedded certificate, meaning you can begin to apply your learnings to your workplace well before program completion.
Academic Excellence and Recognition

Regionally accredited by the New England Commission of Higher Education

Ranked among the Best Online Bachelor's Programs by U.S. News & World Report

Designated as a Military Friendly School for our commitment to the military community

Named among the top MBA programs by Abound/Colleges of Distinction
What Can You Do With A Degree In Healthcare Administration?
Healthcare administration occupations are expected to grow 18% between 2018 and 2028, much faster than the average for all occupations, due to an increased demand for healthcare services as the population ages. The median annual salary for these roles is over $99,000 per year.
Graduates of Champlain's online healthcare administration degree program will be prepared to plan, direct, or coordinate health and medical services in a variety of different settings, including hospitals, private practices, skilled nursing facilities, insurance companies, public health facilities, and more.
*Sources: Bureau of Labor Statistics (BLS), 2019; job titles: Monster.com, 2019
Top Jobs for Bachelor's in Health Care Administration Graduates
Administrative Medical Assistant
Business Development Associate
Financial Manager
Healthcare Financial Consultant
Hospital Administrator
Human Resources Manager
Information Technology Specialist
Office Manager
Program Reimbursement Specialist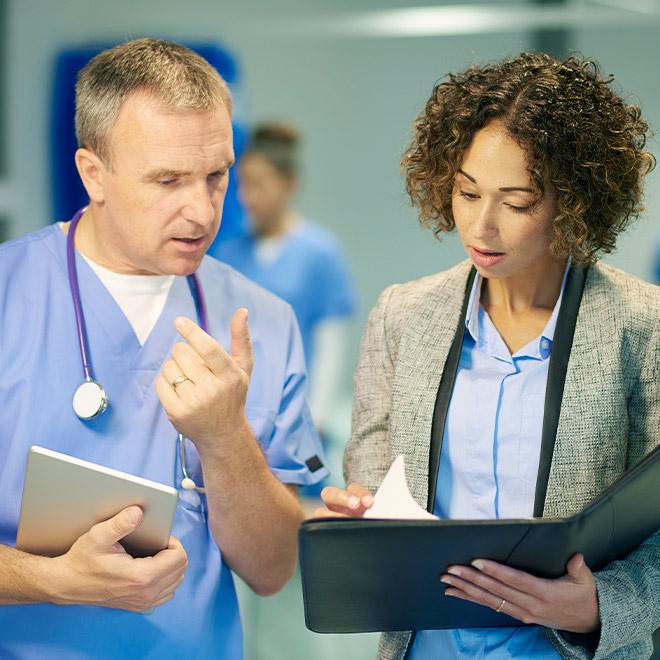 Program Details
Learn more about Champlain's 100% online healthcare administration bachelor's degree, designed for working professionals.
Champlain's online healthcare administration courses encompass the top skills needed by today's healthcare professionals. Graduates of the program are required to complete the following courses.
Professional Courses (69 credits):
Navigating the U.S. Healthcare System
Managing Behavior in Organizations
Project Management I
Agile Project Management
Financial Systems for Management
Organization Development
Information Systems in Healthcare Organizations
Health Finance & Economics
Managing Talent
Privacy & Protection: Law & Regulation in Healthcare
Healthcare Communication
Clinical Systems Management
Healthcare Performance & Process Improvement
Integrative Capstone in HC Management
Financial Accounting
Managerial Accounting
Business Law I
Principles of Business
Business Information Systems & Security
Principles of Finance
Strategic Human Resources
Compensation & Benefits
Principles of Marketing
General Education Courses (51 credits):
Critical Reading & Expository Writing I
Critical Reading & Expository Writing II
Interpersonal Communication
Intro to Statistics (15-week course)
Writing in the Workplace
Ethics in the Professions
Intercultural Communication
Microeconomics
Social Interactions in the Digital Age
Biology of Nutrition and Fitness
Hum/Sci/Math Elective (7 credits required)
General Electives (14 credits required)
Healthcare Administration Course Descriptions:
Students gain a systematic overview of the U.S. health care system, including the role of the public and private sectors. Federal and state health policy and legislation are examined in depth. Students develop an understanding of the complex social and environmental issues that are driving the need for quality improvement, performance measurement and the use of information systems. They become familiar with the various mechanisms through which health services are delivered and also compare the U.S. health care system to other systems outside the U.S.
There are two ways to view behavior in organizations: cultural/interpretive and technical/rational. Students will explore both views, how they explain and predict organizational behavior and the management approaches they inform. Within these contexts, students will explore team and individual behaviors, ethical and diversity issues in the workplace, and how to foster success in the face of significant change. Students will apply course concepts to real-world scenarios and their personal experiences.
Organizations value project management skills for all employees because these skills make everyone more effective and efficient. You will be introduced to skills that define a project's scope, specifications and assumptions. You will also learn to develop a work breakdown structure and task plan, and to schedule and control the, project. These skills can be used immediately, in work and home life.
Project Management II introduces students to the Project Management Institute's (PMI) Standards and Behaviors. You will explore the body of knowledge that forms the foundation for the field of project management, and begin to develop the competencies required to be eligible for the PMP examination. You will also reinforce competencies learned in Project Management I and focus on processes used in professional projects, including skills needed to define a project's scope, create a project charter, develop a work breakdown structure, task plan, schedule, and controlling the work. Finally, the project you begin in MGMT-262 will be completed in MGMT-265, allowing enough time to develop a comprehensively managed project.
Students will learn about the financial operations and analysis tools of any business or organization and their role in the success of the enterprise. Students will learn how to read and interpret financial statements and how to apply cost accounting theories and methods. They will gain a general knowledge about operational and capital budgeting processes and how to apply financial goals to departments and units and monitor financial performance against those goals.
Addresses the opportunities and problems involved in managing human dynamics in organizations. Identifies intervention techniques, theories, principles, and values involved in planned change processes for organization development and organizational transformation. Reviews and applies behavioral science theory and practice.
Students examine the role of information systems in achieving performance improvement in health care delivery, and develop the skills necessary to manage information systems. Students learn to manage health information technology to improve patient care, comply with federal and state regulations, and increase clinical and operational efficiencies.
Students gain a systematic overview of the financial operations of common health care organizations, both public and private. They gain knowledge about various financial techniques and tools applied to health care settings including revenue stream management, budgeting and resource management allocation, and third party payer management. Students identify and analyze key issues confronting the financial management of health care systems and provide strategies for effective management of these financial challenges. This course will emphasize the intersection and integration of health resources management, both clinical and financial, in quality improvement efforts.
Prerequisites
Complete one of these groups: HCMT-210 and MGMT-230 (Financial Systems for Management) OR HCMT-210 and ACCT-130 (Financial Acct.) and ACCT-140-(Managerial Acct.)
Talent management is the process of attracting and retaining talented employees, and cultivating critical knowledge and skills, recognizing that employees' talents and skills drive business success. Using a manager's strategic perspective, students study how to recognize and develop employees' talents, evaluate performance and influence behavior within regulatory constraints. Additionally, they focus on the interrelationship between organizational culture and traditional human resources topics. Other themes include related ethical issues, the global workforce and links between social responsibility, culture and business success.
Prerequisites
MGMT-210 or permission of CPS Associate Dean.
Students learn about the laws, government policies and guidelines, and ethical considerations related to the operation of health care systems. Within this context, students explore HIPAA, informed consent, health IT compliance, anti-trust issues and organizational structures in health care. Students focus on the implications of laws and regulations on the management of health care services, particularly with respect to information systems, costs and, day-to-day operations.
Explores health communication as an emerging specialty in the health care field. We foster a broad-based conceptual understanding of health communication and its role in the contemporary U.S. health care system. Students consider the intersection of health and communication, emphasizing evidence-based approaches and ethical frameworks for research and practice. Areas of research include: provider-patient interaction, social support networks, health information and technology systems, medical ethics, health policy, and health promotion.
Students learn about computerized clinical information systems and computer-based patient information management. They explore health information systems within the context of the work environment, and associated business processes, with emphasis on clinical data and emerging clinical technologies. Students gain skills in managing change in clinical systems to build buy-in, engage individuals and ultimately change workflow. Students learn how cost-benefit analysis, return on investment, requests for proposals, and depreciation affect decision-making.
Students gain an understanding of the health care industry's organizational performance measures and assessments related to the improvement of healthcare service quality. Topics explored include traditional quality, structure and process assessments including risk management, credentialing and the role of oversight agencies; outcomes-based process improvement methods focusing on rapid-cycle tools, such as PDSA, and using small tests of change. Students apply measures and assessments directly to the complex issues and concerns of health care administration.
With the assistance of faculty, students develop and complete an exploratory project in health care administration, giving them the opportunity to independently integrate and apply professional and research content in a healthcare setting of their choice.
Prerequisites
HCMT-450 and 90 completed credits
In addition to building on the skills learned in the first semester, this second-semester course develops the ability to write essays with an emphasis on research, critical reading and thinking. Students continue to learn strategies for writing texts that are clear, coherent, comprehensive, creative, concise and correct for a specific audience and purpose.
Students will study the basic concepts and theories of communication, and learn to apply this knowledge to improve their relationships with others through everyday communication. Specifically, students will learn how to interpret people's verbal and nonverbal behavior more accurately, and to be more aware of how others interpret communicative behavior. They will learn how to listen actively with empathy, and how to interact effectively and appropriately with others from different social and cultural backgrounds. Students will also explore how to use communication as a tool to develop their relationships and self-concepts, and how to manage conflict using specific communicative strategies.
How to collect, organize, analyze, and interpret data in order to make decisions about the world. Topics include descriptive statistics, probability, discrete probability distributions, normal probability distributions, confidence intervals, hypothesis testing with one sample, hypothesis testing with two samples, correlation, regression, chi square tests, and analysis of variance.
Specific application of common tools for writing in the working world. Students will be instructed in rhetorical strategies of professional writing including style, report formats, editing, document design, and integration of visual aids. Students will complete a semester-long writing project; oral and written reports associated with the process of problem-solving within the project will be included.
Students will become familiar with arguments originating from the following schools of ethics: virtue ethics, deontology, and utilitarianism. Students will apply these ethical schools of thought to formulate arguments, practice deliberation and assess the implications of their decisions for various stakeholders in a professional context.
Prerequisites
Must have 75 completed credits or permission of Program Director.
This course builds on COM 130, but with an emphasis on how to develop skills for communicating competently in an increasingly diverse society. Students will explore how culture is communicated verbally and non-verbally, and how to interpret and understand culturally-specific communicative practices. They will also learn how to establish, develop and manage relationships with culturally different peoples, and how to recognize and overcome cultural stereotypes and prejudices.
Prerequisites
Complete COMM-130 or COM-100.
Graduates of the healthcare administration bachelor's online program will demonstrate the following industry-specific skills, knowledge, and competencies:
Explain and compare the organizational elements, structure, performance, terminology, and delivery modalities for U.S. and global healthcare systems.
Analyze the structure of the healthcare system and strategic, tactical, and operational issues surrounding it, and use critical thinking to formulate innovative solutions that will improve healthcare delivery.
Exhibit and nurture attributes that facilitate effective teamwork - both face-to-face and remote - including those that create cross-functionality and result from web-based collaboration.
Maintain accurate financial records, prepare budgets, and assess financial opportunities and risks, and use this financial information to make recommendations for action based on organizational goals.
Perform ongoing critical self-reflection, articulate the personal learning and growth that has resulted from those experiences, and integrate this into action plans for future professional growth in support of the advancement of healthcare systems.
Create policy and processes and execute decisions in compliance with the legal, regulatory and ethical considerations inherent in managing healthcare systems and organizations, with attention to information technology processes and structure and how these considerations impact all aspects of healthcare delivery.
Integrate concepts of ethics, privacy, law, and regulation to achieve optimal organizational effectiveness while adhering to personal and professional values in all elements of health IT and healthcare delivery.
Develop innovative solutions to strategic, tactical and operational issues in managing healthcare systems and associated IT through the use of information, organizational knowledge, talent management, and critical thinking.
Explain and compare continuous improvement processes, and using a variety of tools, design and build systems for measurement, analysis, and accountability as they apply to healthcare settings.
Create comprehensive data-driven action plans that are based on the attainment of measurable results, clear trails of accountability, and all appropriate risk assessment.
Use economic analysis tools to measure ROI of change projects - including information technology systems and quality and process improvement systems - and evaluate proposed options for short- and long-term changes in service lines, capital expansion, talent management, and other issues facing healthcare organizations.
Use talent management, organizational skills, supervision, and coaching techniques to effectively lead across organization, department, and work group units to meet diverse stakeholder and organizational goals in a variety of healthcare environments.
Use oral and written communication skills to meet the needs of various audiences. Use and integrate appropriate technology to develop informative, explanatory and persuasive presentations for a variety of audiences.
Acquire in-demand technical, analytical and soft skills employers want - such as communication, creativity, critical thinking, and collaboration - in general education courses that are a part of this degree.
Earn a specialized certificate in a concentration of your choice as you pursue your degree, so you can build credentials as you go.
Champlain College Online's healthcare faculty are expert practitioners in the field. Their industry expertise ensures that our healthcare administration curriculum is aligned with the needs of employers, and reflects the skills today's healthcare professionals need for success. Classes led by our seasoned experts will give you real-world insight into the field, and create a rich community of career-focused learning.
Alumni of the Champlain College Online bachelor's in healthcare administration program work in a variety of healthcare settings nationwide, including:
Burrell Behavioral Health
Champlain Valley Physician's Hospital
Cigna
Copley Hospital
Dartmouth-Hitchcock Medical Center
Howard Center 
Methodist Health System 
New London Hospital 
Portsmouth Regional Hospital 
Primary Health Network
Rex Healthcare
Rutland Regional Medical Center
St. Mary's Medical Center 
University of Vermont Medical Center
U.S. Army
VA Medical Center 
Titles our alumni hold include:
Applications Coordinator
Business Manager
Director of Facility Operations 
Director of Health Services 
Director of Sales & Marketing 
Help Desk Technician
Pharmacy Business Manager 
Practice Support Specialist 
Purchasing Assistant 
Quality Generalist
Respiratory Therapist
Senior Radiologist 
Staff Assistant 
Supervisor, Pre-Access & Collections
Tuition & Costs
Continuing your education is an investment in your future. Learn more about our affordable tuition rates.
Affordability
Cost shouldn't be a barrier to going back to school. We provide a number of options to make your online education affordable.
Meet the Program Director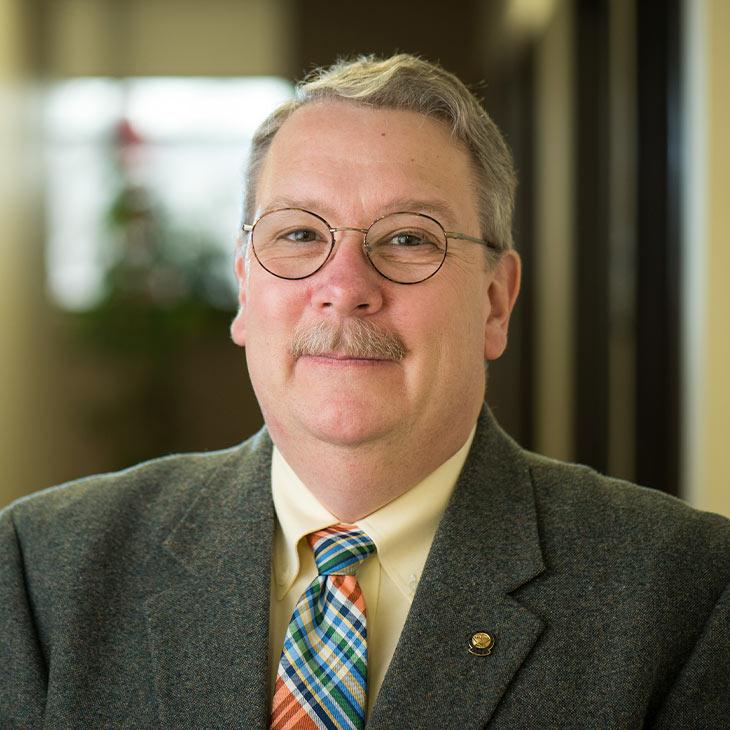 Michael Zemany
MBA
FACHE
Program Director
Healthcare (B.S., M.S., Certificates)
About
Michael Zemany, MBA, FACHE, is Assistant Professor and Program Director of Champlain College Online's healthcare administration programs. He has worked in various roles within the healthcare arena for 35 years: first in basic immunology research, then in community health as Education Director and then as Executive Director for a regional emergency medical services regulatory agency. As his career progressed, Mr. Zemany moved into learning and organizational development positions, and then into senior executive roles in operations (e.g., Chief Operating Officer), process management and organizational performance optimization for acute and long-term healthcare facilities. Mr. Zemany has also previously served as a program director for lifelong learning in higher education, and he continue to hold numerous leadership roles for community health networks and primary provider boards and agencies.
Mr. Zemany's work is focused on the development of the ways people, organizations, systems, and processes can be designed and managed to leverage the optimal combination of knowledge, skills, resources, and passionate dedication to create a positive impact on healthcare, and thus on health and well-being.
Mr. Zemany holds a B.S. in Chemistry from Clarkson University and an MBA with two specializations in Healthcare Systems Administration and Strategic Human Resource Management from Walden University. He is board-certified in health care administration and is a Fellow of the American College of Healthcare Executives.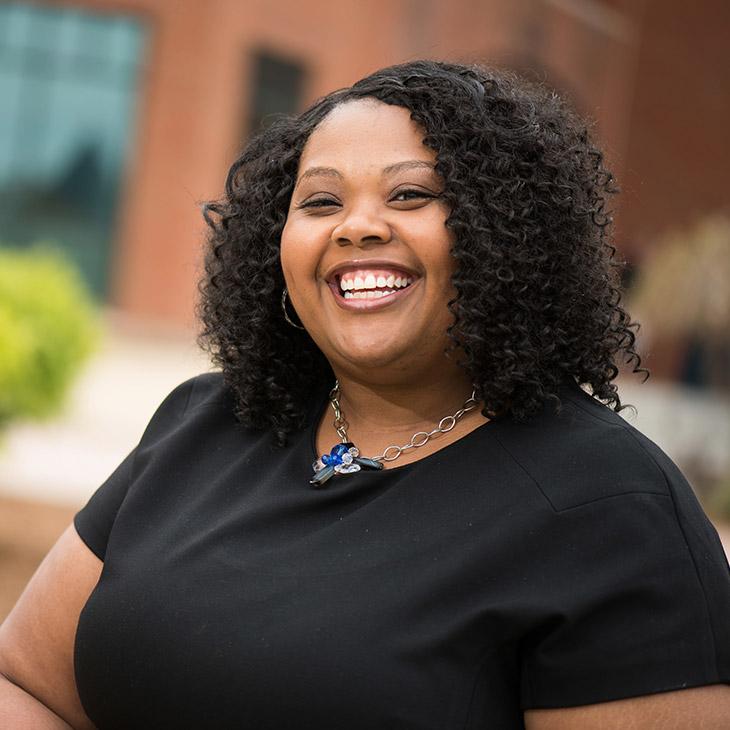 Career Growth
"Champlain stood out from the beginning. I liked that it's a smaller college, and each course in my degree program seemed to be specifically created to help students truly learn concepts that will propel them forward in a healthcare career."
Billie Matthews Bachelor's Degree in Healthcare Administration
Buyer, Supply Chain, Methodist Health System
You may also be interested in
Download Program Guide
Learn what you can expect from our online bachelor's in healthcare administration program.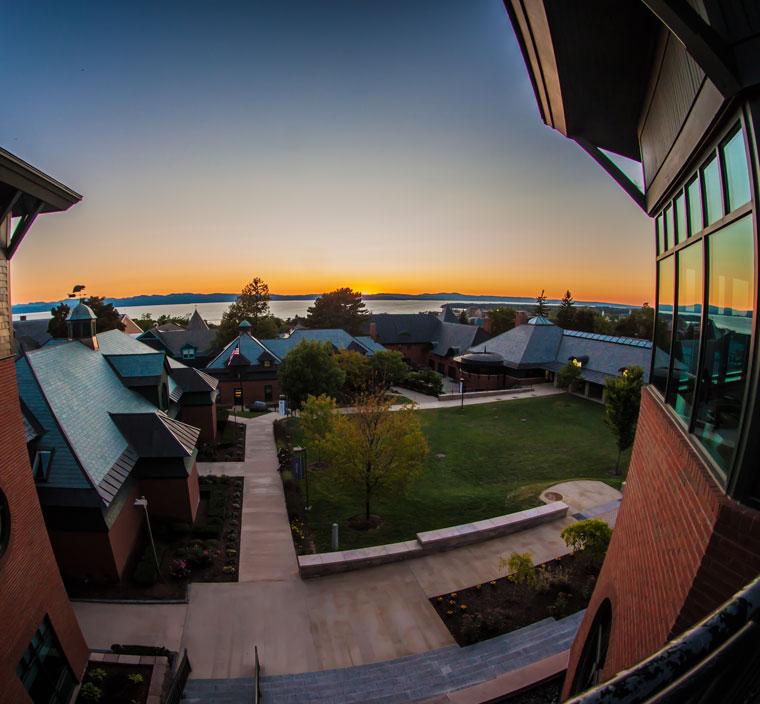 Download Program Guide
Champlain College will not share or sell personal information. Submitting this form constitutes your express written consent to agree to receive e-mails, texts, and phone messages from Champlain College at the phone number(s) and email address provided in this form.