Factors to Consider When Choosing a Degree as an Adult Learner
Returning to school as an adult learner is more common than ever before. A mix of circumstances has contributed to this extreme growth. First and foremost, advancing technology in a range of industries has forced many workers to upskill - or pivot their careers altogether - to stay marketable. Second, and more recently, the COVID-19 pandemic caused a massive disruption in many companies, leaving many professionals searching for new opportunities during an economic downturn.
These impacts on the labor market have highlighted the prospect of continuing education. Earning a degree is one of the best ways to develop new qualifications and advance your expertise to either accelerate your career, increase your earning potential, or set out on a new career path altogether. Returning to school also signals to employers your commitment to lifelong learning.
As you begin your thinking about the return to school, you might be asking yourself, what should I study? With so many degree programs available, it can be daunting to figure out which one aligns best with your desired outcomes.
The area of study that is right for you will be directly tied to your motivations for returning to school in the first place. You might want to open up the door for career advancement opportunities in your field. Maybe you've realized that your passion lies someplace else and you want to break into a new industry. Or, maybe your motivation for returning to school is to fulfill a personal goal of learning a new skill. No matter the circumstance, starting off the next chapter in your academic career with a clear picture of your desired outcomes will be the cornerstone of finding the perfect program.
As an adult learner, you have a unique set of challenges and logistical concerns a traditional-aged student may not have to think about. Because of these challenges, you likely want to maximize your time and money by choosing the right major, both for you and your intended career.
To help guide you through the process of researching programs, we've highlighted some of the most important considerations you should weigh when researching what area of study to advance your education in.
How to Find the Right Degree as an Adult Learner
What is Your Motivation for Returning to School as an Adult?
With so many degree options out there, both in the type of degree and in the area of study, it is important to enter your journey as an adult learner with a clear plan for success. As you begin the process of looking for the right degree program, ask yourself some questions about your personal and professional aspirations, including:
What is your primary motivation for returning to school?
The key to finding the right area of study is to assess your desired outcomes. If you are looking to accelerate your career in your current field, you might consider a master's degree related to your job. If you want to pivot into a new career, a certificate program or bachelor's degree may be better suited for you. Perhaps personal fulfillment is your goal and you desire to learn more about something you're passionate about or have always been curious about. In that case, a certificate might be the best fit.

What type of credential(s) do I need to achieve my goal?
As you assess your primary motivators for returning to school, also think about which type of programs or fields of study will help you achieve your professional and personal aspirations. Consider specific courses, program learning outcomes, and alumni employment statistics; all of this will be instrumental in narrowing your school and program choices and, ultimately, in mapping out your educational journey.

What else, beyond the degree, might I need to reach my goals?
Ask yourself if there are steps you would need to take to reach your career goals even after completing the program. For instance, if you get a master's in accounting, will you still need to take the CPA exam to earn the promotion or position you're looking for? Having the full scope of information about what it takes to get where you want can help inform your approach to searching for programs.
If you're unsure of what the exact credentials are for the types of positions you aspire to have, search for these jobs online to discover what qualifications and requirements are listed. Before you pull the trigger on a tuition payment, you will want to confirm that it is possible to achieve your goals through the program.
Having a concrete plan going into your degree search, that spans the course of your program and beyond completion, will help guide you throughout your journey and make sure you are in a position to reach your career aspirations.
Career Outcomes and Alumni Success
A college degree is a significant investment in both time and money. It's crucial to ensure that your potential degree program demonstrates a positive return on investment. When searching online for degree programs, consider if the school provides alumni success stories and look for data such as graduation rates, post-graduation employment rates, and other career outcomes.
Low graduation rates are a potential red flag that could signal issues with the program quality, faculty, instruction methods, or any other aspect that is critical for student success.
Alumni employment outcomes are important information because they speak to the credibility of the institution and to the real-world application of the program's curriculum. In today's economy, if you can't be certain of the tangible value of the program being offered, it is likely you will want to cross this one off your list and continue searching for the best fit.
If this information isn't readily available, reach out to your admissions counselor to ask about the goals, priorities, and student outcomes of the program. Further, ask to chat with alumni who can speak to their first-hand experience as a student, as well as to their post-graduate experience looking for employment. Affirming that students have had success in the program will help you feel more confident investing in your education.
Above all, make sure the program aligns with your career goals and post-graduation plans. Knowing the types of job positions and organizations alumni have gone on to be employed with will surely be a key factor in aligning your goals to real outcomes and narrowing down your program options.
Financial Aid and Scholarships for Adult Learners
Affordability is among the top concerns when choosing a degree program. Tuition - and additional educational expenses like books and materials - is a concern for students of any age, of course, but working professionals are likely coming to school with existing financial responsibilities, from mortgage payments to child care. It's imperative to learn more about what programs and resources a school might have to help make a degree more affordable and accessible.
Look beyond the sticker price of the program, such as at financial aid programs (e.g. grants and scholarships), tuition payment plans, or other discount programs. A school may offer you other ways to save on tuition, such as receiving transfer credit from previous academic endeavors, professional experience, and/or exams.
It's also important to think of the long term - weigh the cost of each program alongside other factors such as career opportunities, faculty expertise, and curriculum. This might make it more apparent which programs are worth considering. If the institution and academics are everything you're looking for but the program cost seems out of reach, inquire with the school's financial aid advisors about potential saving options.
Outside of the school you're looking at, there are many scholarships for adult learners offered through the government or private institutions. Understanding all financial options will go a long way in minimizing costs and making payments more manageable.
Which Learning Format is Best for Adult Learners?
Time and geographic constraints are another top concern for working professionals. This flexibility - choosing when and where you complete coursework - is why online learning has been the preferred learning format for adult learners for decades.
In addition to looking for online options, also consider other factors, such as if you can enroll part-time instead of full-time. If completion time is important to you, consider if your program of choice is available in an accelerated format. Understanding all of your options will ensure that the program you land on matches your goals and aligns with your current lifestyle.
Explore Champlain College Online
Champlain College Online (CCO) offers 100% online associate degrees, bachelor's degrees, master's degrees, and certificate programs - available in four primary areas of study, including business, cybersecurity, healthcare, and information technology. CCO's 60+ programs are specifically designed to align with the unique needs of adult learners and working professionals looking to advance their education. Focusing on the in-demand skills needed to stand out in today's complex job market, Champlain crafts career-focused coursework that prepares students for real-world application.
Committed to helping students manage the financial commitment of returning to school, CCO offers robust financial assistance programs and resources, including opportunities to waive requirements through transfer credits, professional experience, and exams. Explore CCO's award-winning academic programs.
Download Online Experience Guide
Learn what you can expect from your experience at Champlain College Online.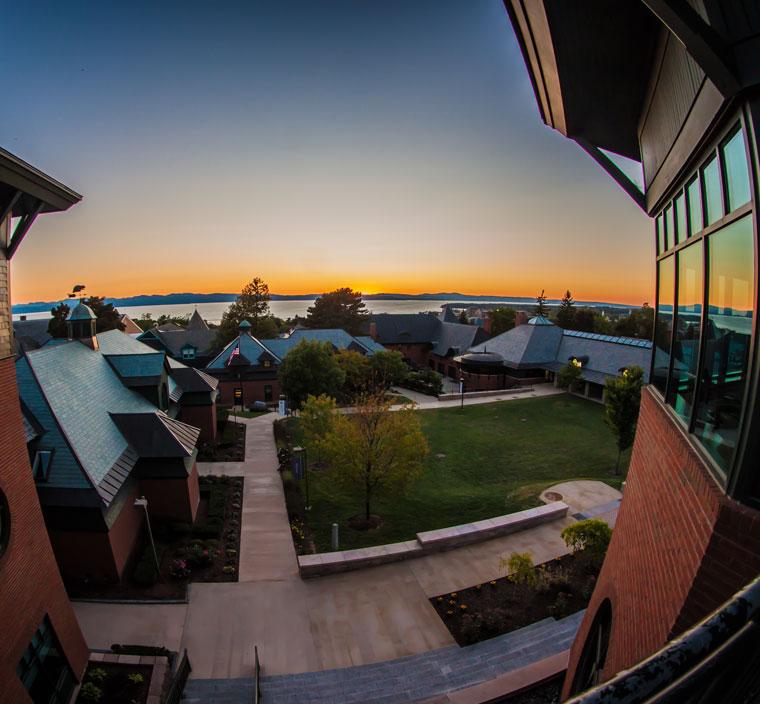 Online Experience Guide Download
Learn more about what you can expect from your online experience at Champlain.