Most people, at some point in their lives, will find themselves at a career crossroads - a moment when they realize it's time for a change. For some people, that change might look like a a new role within the same company; for others, a new job; and for some, it might mean a complete career change. For those considering one or more of these shifts, going back to school is a natural next step.
However, the prospect of returning to the classroom can be daunting, especially if it's been years since you last were in school. For working adults with busy professional and personal lives, the idea of fitting school into already-packed schedules sometimes seems like an impossible challenge. And beyond that, many adults are unsure of the true benefits of going back to school, and find themselves wondering if the challenges associated with getting a new credential are worth the cost and effort. Making this decision can be difficult - adults often find themselves full of unanswered questions, such as:
Should I go back to school?
Am I too old to go back to school?
Is going back to school worth the effort?
Can I afford to go back to school?
Do I have enough time to go back to school?
Are there good reasons to go back to college?
Will going back to college help me move forward in my career?
Will I get a return on my investment?
The long and the short if it is that it is almost always a good decision to go back to school, given the numerous benefits associated with doing so, from higher earning potential to increased job prospects to self-fulfillment.
However, it's still a good idea to do your research to make sure you're picking a high-quality institution that offers you the flexibility you need at a cost you can afford, and to identify the driving reasons to return to college. It's also essential to pick your program wisely - choosing a career-driven degree in an in-demand field (that is, one with strong job prospects and potential for growth) will help you ensure you get a return on your tuition investment and set yourself up for success.
If you know you need a change but don't know what you want to go back to school for, start by thinking about the things that interest you, and the things you're good at. What are your strongest skills? What are the skills you want to develop? What are the areas you want to work on? When you think about your future career, what kinds of things would you be doing - would it involve leadership? Working with computers? Detail-oriented work? Writing? Even if you don't have a specific job or field of study in mind, these factors can help you determine the right degree program for you.
You can also think about the decision in terms of the fields of study that are most associated with post-graduation success, and see if they line up with your skills and interests. To get started, here are some of the most in-demand degrees today.
Top 5 Career-Driven Degrees to Set You Up For Success
1. Business Degree
Regardless of the sector you work in, or plan to work in, a business degree will be in high-demand. Whether you're pursuing an MBA or a bachelor's in business, a business degree will help you become a well-rounded business professional, ready and able to take on the challenges faced by today's organizations. You'll learn critical skills like decision-making and problem-solving, financial analysis, change management, people intelligence, leadership, and more.
While individuals with business degrees can work in a number of different fields and jobs with varying levels of projected growth and income, the Bureau of Labor Statistics anticipates that, in general, business and financial operations occupations will grow 10% over the next ten years.
2. Cybersecurity Degree
Cybersecurity is one of today's fastest-growing fields. In today's high-tech world, organizations across virtually every sector and industry are looking for ways to protect their digital assets and intelligence from security breaches. Whether you're looking to launch your career in the field with a bachelor's degree, or are a seasoned professional hoping to advance with a master's degree, a cybersecurity degree is a smart investment in your future.
The Bureau of Labor Statistics has a very positive forecast for individuals in the information security field, with a projected job outlook of 28% growth over the next ten years and a median annual pay of $92,600.
3. Accounting Degree
Accounting degrees are some of the most popular programs on the market, and for good reason: accounting professionals are always in-demand. An accounting degree will help you build fundamental accounting skills such as business and tax law, financial intelligence, problem-solving, risk analysis, information technology, resource management, and more. Depending on the credit hours offered, an accounting degree program can also help you prepare to sit for the CPA exam.
The accounting profession is forecasted to see 10% growth over the next ten years, according to the BLS, with a median salary of $68,150 per year.
4. Healthcare Administration Degree
Our population is aging rapidly, and yet living longer (and more actively) than ever. This results in an increased demand for healthcare services, and with that demand, a need for highly skilled healthcare administrators. A degree in healthcare administration is the perfect fit for healthcare professionals looking to bring their vision for healthcare improvement to life, to build a better healthcare system, and to advance into new roles within the healthcare field.
According to the BLS, healthcare administrators will experience a 20% growth in job outlook over the next ten years, and earn a median annual salary of $96,540.
5. Computer Forensics Degree
Computer forensics, which can be seen as a companion field to cybersecurity, is a great fit for individuals interested in the investigative side of information security. Major data breaches at massive companies dominate the daily news—the risks of these hacks is becoming a new reality for businesses, and therefore the need for qualified computer forensics professionals is great. A computer forensics degree will give you hands-on learning in the field to help build the skills you need identify and respond to cybersecurity breaches and network hacks.
While the Bureau of Labor Statistics does not provide a career forecast for computer forensics professionals specifically, individuals in this field can expect a similar projected growth and median salary to cybersecurity professionals.
Download Online Experience Guide
Learn what you can expect from your experience at Champlain College Online.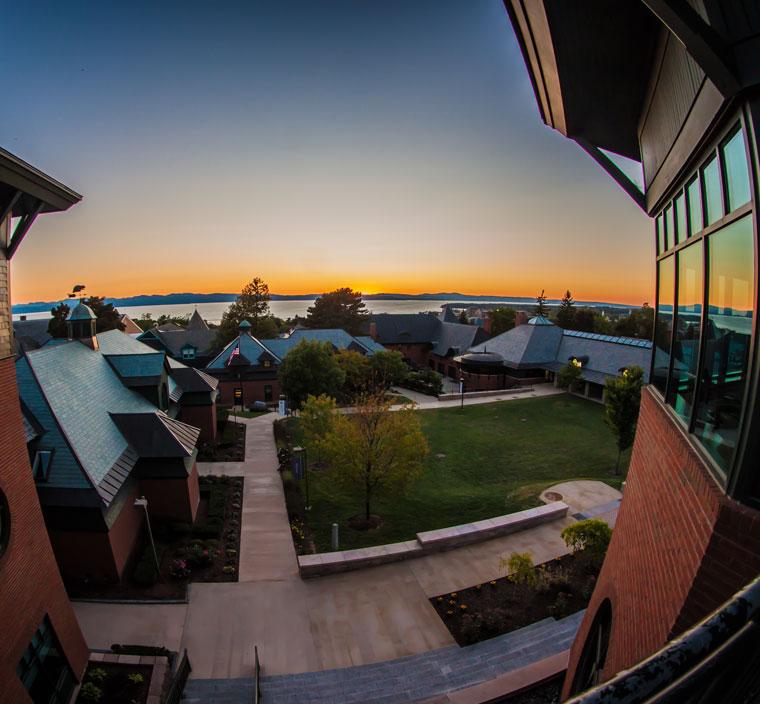 Online Experience Guide Download
Learn more about what you can expect from your online experience at Champlain.