Until fairly recently, the value of college education was unquestioned - although tuition was a cost that needed to be considered, the ultimate benefit of obtaining a bachelor's degree was clear.
However, in recent years, there's been more and more discussion of whether college is, truly, worth the cost. As tuition costs skyrocket at institutions across the country, student loan debt increases into the trillions of dollars, and the job market becomes saturated with degree-holders, it's a valid question: is college education worth it?
In short, the answer is yes - despite all of these things, a college education will almost always be of significant benefit. To make the case, here are some of the reasons why - and some of the ways you can ensure the best return on your tuition investment.
The Costs of a College Education
To start, it's helpful to look at what, exactly, a college education will cost you. This is a significant question to grapple with, because the answer can vary tremendously based on a number of factors, including:
The Type of Institution
All institutions of higher learning fall into one of two categories: public and private. Public colleges are state-funded, and often cost much less than private institutions, which rely on tuition dollars and private contributions for their operations. This is not, however, an indicator of quality - many public colleges are ranked among the best in the nation, and many private institutions are less competitive. To determine the quality of an institution, you'll want to consult one of the many rankings or guidebooks available to help students navigate their higher education options.
Private institutions can further be broken down into two buckets: non-profit and for-profit. The vast majority of private colleges are non-profit, meaning revenue generated is used to ensure a high-quality, positive student experience. For-profit institutions, on the other hand, are run like businesses, with the goal of creating profits for shareholders and executives. This often translates into a lack of quality in terms of the student experience and the educational offerings, and, along with that, higher tuition.
The Financial Aid Accessible to You
When you consult the tuition page of a given institution, you'll see what will mostly likely be a fairly high number - high enough that you'll feel like you have no idea how you'll afford it. However, usually this number is what's known as the "sticker price," meaning that the majority of students do not end up paying (or get assistance in paying) the full amount due to financial aid. This is usually a combination of federal student loans, private loans, employer tuition reimbursement, scholarships, grants, and institutional aid (when available). The amounts of these will depend on your financial eligibility, which will be determined through filing the FAFSA (Free Application for Federal Student Aid). However, in most cases, students will be able to access at least some form of financial aid, which will help reduce their tuition costs.
The Education Delivery Method
The way you are obtaining your education can play a large role in the overall cost of your college experience. Almost always, you'll be looking at one of two methods of education delivery: face-to-face learning and online learning.
Face-to-face education is what many people think of when they hear the term "college education." This is the traditional on-campus experience, with classes being held in physical classrooms with a group of classmates and a professor lecturing or leading discussion. Online education takes the same principles of hands-on teaching and immersive classroom experiences and applies them to a virtual format, usually through discussion boards and text- or video-based assignments. While both are great options that deliver the same high-quality education, typically, online education will be cheaper, simply because there are fewer overhead costs to contend with. For instance, an institution with a physical campus must account for the cost of maintaining grounds and powering buildings, which can drive up the costs of tuition.
The Hidden Costs
A common mistake many students make is assuming that the cost of tuition displayed on a school's website is the amount that they will owe. However, it's not as simple as that. While tuition certainly makes up the bulk of the amount students must pay, it's important to consider the less obvious costs of a college education as well, because they can add up quickly. These include:
Transportation (if you're commuting to and from campus)
Costs of living (including lodging and meals)
Lost wages (if you're choosing to pull back from or leave your job while you pursue your degree)
Books and materials (these can include textbooks, laptops, and more)
Fees (institutions will sometimes charge additional fees for enrollment, application, access, and/or graduation)
Not all of these costs will apply to every student, and, increasingly, institutions are working to drive these additional costs down as much as possible.
However, it's worth doing some research and some calculations to determine how much you'll be required to pay on top of your tuition bill.
Is Going to College Worth It?
It's a valid question - but in short, the answer is yes. You might look at the list above and think that there's no way that spending all of that money on a college education will be worth it. However, while the cost of college is admittedly high, there is still enormous benefit to obtaining a four-year degree. Here are the top reasons why college is worth it.
Increased Earning Potential for College Graduates
Perhaps the most compelling reason, and the one that is most quantifiable, is the well-documented increase in earning potential for college graduates as compared to individuals with no degree. Studies show that those with a high school diploma or GED earn approximately $36,000 per year, and those with a bachelor's degree earn a median salary of approximately $60,000. That's almost double the yearly earnings!
Put in another perspective: high school graduates will earn, on average, approximately $1.2 million over the course of their working lives. While this sounds like a lot, consider that individuals with a bachelor's degree are projected to make approximately $2.1 million.
Understanding that an increase in salary will mean being better able to repay loans, and will ensure future financial security, makes taking on the costs of college a more feasible options for many students.
Lower Risk of Unemployment
The unemployment rate for individuals with a bachelor's degree is inversely proportional to their increased earnings. While college graduates have an unemployment rate of just 2.7%, this percentage nearly doubles for individuals with just a high school diploma or GED, who have an unemployment rate of 5.2%. As more and more people obtain bachelor's degrees, it will be increasingly important to be among these individuals for future job security.
Increased Job Prospects
Today's employers are looking for highly-skilled, well-trained employees, and having a degree is one of the best ways to demonstrate that you possess the capabilities needed for success in today's business world. And, increasingly, a college degree is a barrier for entry to many businesses. A recent study found that employers are, across the board, raising the educational requirements for many positions. In fact, 38% of organizations have raised the educational requirements for hiring over the last five years, and 41% of employers are hiring individuals with college degrees for positions that used to be held primarily by those with high school diplomas.
Career Satisfaction
Another big advantage of obtaining a college degree is that it allows you to pursue a career that truly interests you, whether it's advancing in your current field or changing professions entirely. A degree program in your preferred subject area will give you the skills and training needed to move into a new role, and will open up a new world of opportunity to you. If you find yourself in an unstimulating job, or wish you could fulfill a long-held career dream, getting a college education is one of the best ways to change your circumstances.
Making an Investment in Your Future
Perhaps more than any other reason, the fact that by getting a degree you will be making a investment in your future makes the cost of college worth it. It can be difficult to look beyond where you are right now to make decisions that will benefit your future self, but when you really consider the benefits of a degree, the value of college education becomes evident. Despite the significant financial commitment you're making when you enroll in a degree program - not to mention other challenges, such as the time, energy, and work required to reach completion - the payoff is more than worth it in the end. When you receive your diploma, you'll be greeted by not just the tangible benefits in terms of career and income, but a sense of having done the right thing to secure your future success as well.
Download Online Experience Guide
Learn what you can expect from your experience at Champlain College Online.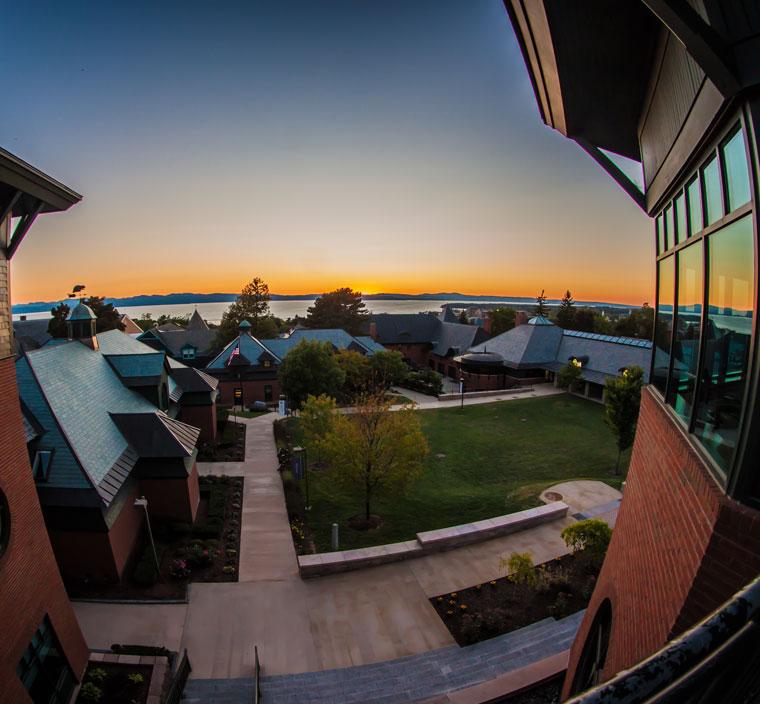 Online Experience Guide Download
Learn more about what you can expect from your online experience at Champlain.