Times have changed and so has the job market. The onset of COVID-19 has created a challenging and competitive environment for would-be job seekers. But with change comes opportunity. 
While historically the traditional way to launch or grow a career path was through a degree (whether undergraduate or graduate), students — both college-age and adult — are now looking for other ways to advance and grow their skillsets. A certificate is one way individuals can achieve training in a specific area to get ahead in their career, build their resume, or simply pursue a passion.
What is a certificate? How is it different from a degree?
A degree is an advanced education option that often requires years of study. The courses you take as a degree student range from general education to courses specific to a major and minor. 
A certificate, on the other hand, is achieved after you have completed required work in a specific area. The courses you take to earn a certificate are related directly to the specific area of student, and usually do not include general education classes. 
Because of this, the time to complete a certificate is much shorter than the time it takes to complete a degree — and you come away with a fresh, deep understanding of the subject matter.
Typically, students finish their degree and then pursue certificates as they become interested in other areas or see opportunities to grow in their field. This allows the student to build upon the education they already have and expand their skillset without having to start over with a new degree.
 
What are the advantages of a certificate?
While undergraduate and graduate degrees both have their benefits, the advantages of investing in a certificate program continue to grow. 
A certificate can help boost your resume
One of the most obvious benefits to certificates is that it is a relatively quick way to gain a new skill and build your resume. Depending on your goals, you can get a certificate when you are looking to build on your current career or enter a different part of your industry. Students often parlay their certificate into a promotion and use it to highlight their interest in a specialized part of their job. 
Let's say you are interested in moving your career into management but you know in order to get that promotion you need a bit more experience. The online graduate certificate in Business Management at Champlain College Online might be just what you need to build new skills, earn a recognized credential, and demonstrate subject matter expertise to your manager.
A certificate allows you to feel out a new interest 
Maybe your goal isn't to climb the corporate ladder right now — instead, you want to explore a new interest. Or, perhaps you're on the fence about going back to school for an advanced degree in a new field. Whatever the scenario, a certificate program is a great way to help you learn a new skill and gauge whether it's an area you'd like to invest more time and money. 
Perhaps you are interested in the field of digital forensics but it's a completely different path than your current career. A certificate in digital forensic science would be a great way to gain foundational knowledge of this field If you end up wanting to invest in a degree, you can transfer your certification credits to Champlain's Online Master's in Digital Forensics Program.
Certificate programs are more flexible
At Champlain College Online, all of our programs are designed for the adult learner. This means that cost, flexibility, and a superior experience are our highest priority. By offering programs online, students are able to complete courses in a short timeframe wherever and whenever is best, while still benefiting from the real-world experience and knowledge of our working practitioner faculty. 
You can earn recognized credentials
In many careers, a degree is not the last stop in career advancement. The world is rapidly evolving and employers recognize the need to keep up with the ever-changing landscape and emerging skill gaps. In several fields, employees must gain credentials in order to take the next step in their career. At Champlain College Online, many of our certificate programs are nationally recognized and endorsed by industry associations worldwide, such as the undergraduate certificate in Advanced Cybersecurity which was designated a National Center of Academic Excellence in Cyber Defense Education by the U.S. National Security Agency and the Department of Homeland Security. 
Why choose Champlain College Online for a certificate?
When you decide to invest in a certificate, it's important to find the right program for you and one that matches your goals. If you are looking to learn a new skill, an online certificate program where the classwork is mostly self-guided may be the best option. If you think the certificate would be the first step of venturing into a new degree, look for a program where the certificate equals academic credit and could be transferred to a future degree. 
Champlain offers over 35 certificates - both undergraduate and graduate level - with curriculum designed around modern workplace skills gaps and market demands. Students who study at Champlain engage with practitioner faculty working in the field who bring real-world case studies and challenges to bear. And our high-touch academic advisors understand the needs of working adult students, providing the support you need. 
Whatever your goals, your education journey is Champlain's top priority. Our student support team has your back every step of the way. 
 
Request Information
Connect with our admissions team to learn more about Champlain College Online.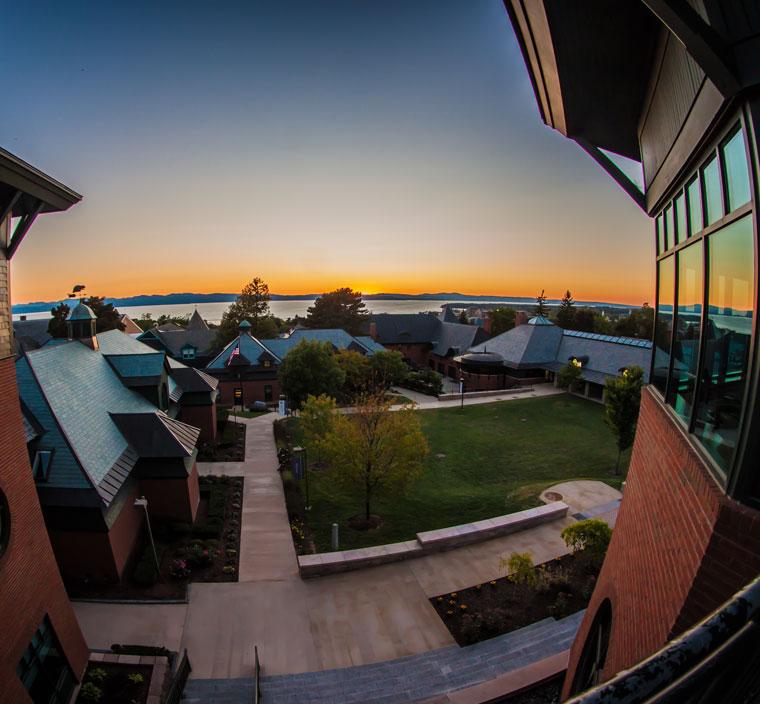 Request Information
Your growth is our purpose. Let's work together to uncover the strengths and experiences you already possess that will help you succeed in your academic and professional pursuits so you'll be ready for your next opportunity.