Taking classes online is a very different experience than taking classes in person. On top of that, taking classes while balancing your personal life, a job, and your family adds complexities and challenges a traditional college student might not have. 
If you're starting out in an online degree program at Champlain College Online, it's important to think about how you can set yourself up for success. To help get you started, we talked to some of our online alumni to learn about the methods and strategies they used to get the most out of their online learning experience.
Tips for Success at Champlain College Online
Get Organized
Organization - whether in terms of organizing your time and schedule, your supplies, or your space - is crucial to successful online learning. Everyone approaches organization differently, but here are a few common themes we heard from our alumni:
One of the things I have learned is how to manage my time effectively. I always dedicate 2 hours a day to study, even if it's late at night."
I create a folder for each class, and within that folder, I create a subfolder for each week. Then I create Word document for the discussion post and assignment due each week, and save it to the week's folder. I pre-fill my name, class, and week, and this helps me get started, organized and motivated. "
I am a single mom and a full-time manager. I usually work 50-60 hours per week, so I need to be structured in how I schedule my schoolwork. Sunday evening is the best time for me to focus on school."
Build Your Support System
Your friends, family, coworkers, and academic advisors are all part of your support system, and they all want to help you succeed. As you think about starting classes, reach out to the people in your life to ask for their support.
Tequila (a 2018 graduate of the online MBA program) worked with her husband to figure out a system that allowed her to focus on her schoolwork and made sure their children were taken care of.
Juggling all my commitments while attending school was a challenge in the beginning. I learned how to rely on my support systems - for example, if I had a deadline, my husband would take our boys to the park so I could focus."
Rosi (a 2018 graduate of the online integrated studies bachelor's degree program) was living in Mexico City while taking her online classes, and felt her instructors' and advisor's support from around the world during a challenging time. 
I was living in Mexico City, and there were several natural disasters while I was there. Champlain was very, very supportive and helpful. After a major earthquake, my advisor called me to find out how I was, and followed up with me a week later. It's that kind of personal touch that really was important to me."
Embrace the Online Platform (But Don't Be Afraid to Ask for Help!)
Champlain College Online courses are conducted through an online platform called Canvas. Before the start of classes, all students take orientation classes, one of which is focused on Canvas. This orientation is designed to help students understand the platform, and how to use it effectively. 
As Kristopher (a 2017 graduate of the online computer forensics bachelor's degree program) learned, technology also gives you freedom to complete your coursework wherever you are.
Champlain's technology and the Canvas app made it possible for me to work wherever I was. My work was done sitting in airports, on airplanes, in hotels. Once I was in an Uber in San Francisco reading posts and responding to things on my phone because an assignment was due!" 
On the flip side, don't let the technology scare you away! Leslie (a 2017 graduate of the integrated studies undergraduate program) learned that the faculty were always available to help when she had a question.
At the beginning, I was overwhelmed, feeling like I didn't know how to use the computer well enough to do this. But every time I needed something, somebody at Champlain was there to help me."
Participation is Key
Each week you'll have to write and respond to discussion posts exploring various topics related to your class. Participating in these forums is not only important for your grade, but will also help you stay engaged, continue learning, and allow for interactions with your classmates and instructors.
Marlon (a 2018 B.S. Integrated Studies graduate), shared why it was important for his learning experience to be an active participant.
Often, as a traditional student, you can just sit in the classroom and not participate. In the online experience, you have to participate. You get to meet all these people from all over the country and the world. You can learn about their backgrounds and different perspectives. It made learning easier, better than just reading a textbook."
Determine the Level of Commitment That's Right for You
The beauty of online learning is the flexibility it offers. Some people may be able to take 2-3 classes at a time, while others can only take one. Some students change their class load depending on the time of year. It's important for each student to take a look at their individual circumstances: time, motivation, goals - and determine the time commitment you're able to dedicate to your classes on top of your other responsibilities. 
Shannon (a 2018 graduate of the online bachelor's in cybersecurity degree program) wanted to embark on a new career path after seeing an opportunity from his employer. To do this, he determined the level of commitment that was right for him.
Balancing the commitments in my life was a challenge. I worked full time, I was traveling often, and I had a family. I only did one class at a time, and never over-committed. I set aside at least an hour or two every day and knew exactly what I had to accomplish that week." 
Brian (a 2018 graduate of the online master's in leadership program) recognized that being a student and working full time is tough, but ultimately pays off in the long run.
To be a full-time student at Champlain as well as a full-time employee is tough. You really have to be committed. I believe with any degree program, you need to make sure it fits into your lifestyle and into your goals for what you want to do. Never stop learning - that's what I always tell people."
Everyone is different, so you will need to find strategies that work best for you. If you're looking for assistance, your advisor is always just a phone call away!
Download Online Experience Guide
Learn more about the online learning experience at Champlain College.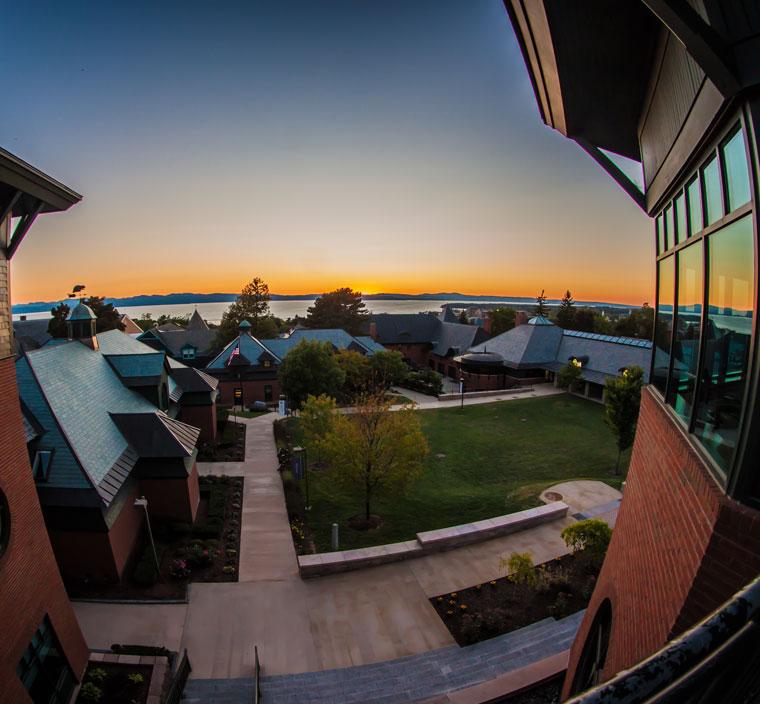 Online Experience Guide Download
Learn more about what you can expect from your online experience at Champlain.