Every week I hear from students who are hoping find a new job and enter a new field (e.g. cybersecurity) asking how they can market themselves to employers if they have no experience. What should they include on their resume? How can they rebrand themselves? I find myself repeating the following advice often, and I hope it provides the tips, advice, and encouragement that will help you launch your new career.
By way of introduction, a good resume should be concise, focused, and achievement-driven.  What does that mean? By "concise," think billboards, where you are highlighting relevant skills, experience, and knowledge with brief, powerful statements. "Focused" means it should be tailored to the specific position and industry. An employer should be able to tell generally what kind of position you're seeking just from the content of your resume. "Achievement-driven" means to highlight what you have accomplished, as opposed to listing duties and responsibilities.
When you're seeking to enter a new field and have no experience in the field, you want to draft a resume that is future-oriented and focused on where you want to be in your career, which cannot be achieved by simply listing what you've done in the past - a common mistake made by many.  
How to Write a Resume
Highlight Your Skills
Start your resume with a section called "Highlights of Qualifications" and, using bullets, list 3-4 qualifications that align with the position you're seeking. These might include your education, general skillset, or aptitude for the field. You may be able to draw from past experience here, e.g. leadership or transferable soft skills, or ask someone who knows you well for insight.  If you're struggling with what to include in the Highlights section, you can always go back later to edit - sometimes the start of the resume is the hardest to write.
Your next section should be something that is going to position you well. For those entering a technical field, e.g. cybersecurity, employers are going to want to know what your technical skills are. This is where you list programs, systems, and specific technical skills. Avoid including very basic programs that are expected of all professionals, such as Word, Powerpoint, internet search, etc. If you are looking to enter a non-technical field, you can skip this section or substitute it with something else that would be relevant - perhaps you have an area of expertise that might be of interest. Avoid including things that are not at least somewhat relevant.
I would suggest including your education next, even if you have significant years of experience in another field. Your education is another way to focus your resume towards your new career. After including your degree, include a subheading called "Relevant Coursework/Projects," and list key courses directly relevant to the field and any significant projects, presentations, or capstones you completed during your program. If your GPA is high or you received any notable awards or recognitions, you can include those here as well.
Showcase Your Experience
Now comes the tricky part: your experience.  I prefer the word "experience" over "employment" or "work," as it's important to remember that experience is not limited to paid jobs. Experience might include volunteering, internships, or things you've done on your own, such as building networks or websites. If you have done things that qualify as relevant to the job for which you're applying, begin with a section for relevant experience. You can add a section for additional experience after.
Many people have contributed to their communities and this can certainly be added to their resume as well. These experiences might also fall into the category of being relevant by demonstrating technical skills or leadership. Another tip for focusing your resume is to join relevant professional organizations or attend conferences in the field. This demonstrates professionalism and a commitment to your new career. These can be added to an existing section or by creating an additional section. Many professional organizations offer free or reduced memberships to current students.
When listing experience that's not relevant, focus on transferable skills and relevant achievements. Avoid listing job duties and responsibilities, especially if it's in an unrelated field. Ask yourself: what did I accomplish that might be of interest to my next employer? Leadership experience is always transferable and appreciated by employers. Anything IT-related is going to be relevant, especially if you're pursuing a technical field. Reflect on what you're most proud of from prior experience. Often those experiences are transferable to a new career, as they might demonstrate initiative, problem-solving, persuasion, conflict management, or other important skills.
Once you've identified what you want to highlight for each experience/job, begin each bullet with a strong verb that describes the actions you took. Keep each bullet concise and include outcomes if possible. Quantify when you can, and avoid writing in a narrative style, as employers skim resumes quickly. The more you write, the greater risk you run that they will miss something, and it could be important! 
Pick and Choose What to Include
You do not need to include everything you've ever done on your resume. It's important to avoid large gaps, but if you have been working for a while and have had multiple jobs/careers, think carefully about how far back you want to go. It's OK to leave things off, and the older you get, the more this becomes important. When in doubt about what to leave off, always put yourself in the shoes of the employer. Would they care about a given position? Does it fall into the category of too much information? We often feel compelled to tell our whole life's story. There may come a time when an employer might be interested in hearing about it, but the resume is not always the proper venue.  
Edit Your Draft
Always front-load your resume so employers want to read more, by putting the most important information at the top. Avoid running into a second page unless you have enough relevant information to warrant it.  If your reader is not interested by the first page, they likely won't get to the second.
Once you have your draft, go back through and edit by eliminating words that are not necessary without changing the meaning, such as "a," "an," and "the."  Also, avoid using too many adverbs and adjectives. It's more powerful if you state what you did, and the outcome, without the commentary.
So if you made it to this point, you might be feeling a bit overwhelmed. Launching a new career can be daunting yet exciting. Be assured that as a Champlain student or alumni, ample support is here to help you with each step towards your new career, including helping you turn your resume into an effective marketing tool!
(Note:  This article was written with private-sector companies in mind).
Download Online Experience Guide
Learn what you can expect from your experience at Champlain College Online.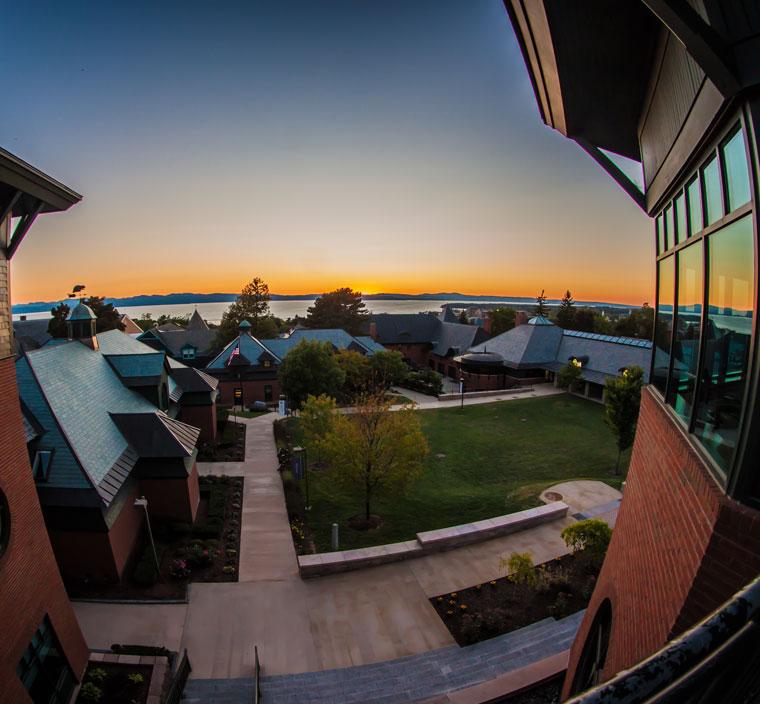 Online Experience Guide Download
Learn more about what you can expect from your online experience at Champlain.