The benefits of a college degree have been well-documented. However, with rising college tuition, high unemployment rates (even for those with a degree), and increasing technology automation that results in whole career fields quickly becoming obsolete, many prospective students find themselves wondering if it's worth pursuing a degree, or even if it's necessary in today's world. How important is a college degree, really?
In short, despite these challenges, a degree is more important than ever. While there are certainly issues worth considering when it comes to taking the plunge and enrolling in a degree program, getting a degree is almost always a smart choice that will set you up for success in a multitude of ways. Just remember to think critically, be a savvy shopper, and make well-informed decisions when it comes to your institution and degree type, and a degree will likely pay off.
When making the decision to back to school, students often have a number of questions that they need answered before they can determine the value of a degree. We've listed some of the most common questions below.
Top Questions About the Benefits of a Degree
How Does a College Degree Help Your Career?
Obtaining college degree will almost always improve your career opportunities. In today's competitive job market, it's becoming more common for employers to require applicants to hold at least a bachelor's degree in order to qualify for many jobs. That means that without the credential, you're going to be at a disadvantage - it's difficult to even get in the door at a new company, or start the conversation with a potential employer, without it, even if you have years of experience in your field. Even if you're not looking to change jobs or move to a new company, you'll often find that your prospects for internal shifts (such as promotions) are limited without a degree.
How Much More Do College Graduates Earn?
The impact of a degree on earning potential has been well-documented: studies show that those with a bachelor's degree make, on average, $2.1 million over the course of their lifetimes. Compare this to just $1.2 million average lifetime earnings for those with a high school diploma, and the benefit of a degree becomes clear.
How Does Education Help You Get a Better Job?
Education plays a large role in helping you get a better job. As noted above, the credential itself is an important factor when it comes to improved career prospects, but it's not just about the piece of paper: the skills you'll learn throughout your degree program will set you apart as a highly qualified candidate and valuable employee. These skills aren't just limited to those in your specific field, though those are of course critical - you'll also learn in-demand soft skills like communication and time management that will set you apart in the workplace. Having this background will help you qualify for better jobs, present yourself well in interviews, and allow you to excel once you're actual in your new role.
This translates into getting a better job: doing work you're interested in, working in a safe and comfortable environment, making more money, and having a schedule that makes sense for your lifestyle.
How Important Is a College Degree?
In today's world, a postgraduate credential is incredibly important when it comes to your career. Not only will such a credential validate you in the eyes of potential employers, it will give you the background and foundation in the field of your choice that you'll need for success. Getting in at the ground level and learning on the job are admirable ways to get where you want to go, but in this competitive job market, they're much less feasible than they used to be. As baby boomers - many of whom were able to secure great careers without degrees - retire, employers are seeking to fill their roles with better-trained, better-educated replacements.
Will a college degree guarantee steady employment, high income, or success? No, not necessarily, but it will position you well to pursue all of those things. Will receiving a college degree improve your career opportunities? Almost certainly, yes. This is only going to become more true over time, as the job market becomes even more competitive. To put the trend in perspective, consider that nine out of ten new jobs created in the last year have gone to those with a college degree. That means that a degree - once considered optional - is now a necessity.
Making a Smart Back-to-School Decision
If you're concerned about cost, quality, and value, there are a few things you can do to ensure you're making a smart choice when it comes to a degree.
Choose a Non-Profit Institution With a Reputation for Quality
A good place to start is the U.S. News & World Report rankings.
Do Price Comparisons
You shouldn't pick a school simply because it's your cheapest option, but make sure you do your homework so that you're not overpaying.
Pick a High-Growth Field
Although some people have a particular field or subject area that they're passionate about, others are simply looking for a degree that will set them up for success and lead to steady employment. Look at the Bureau of Labor Statistics listings to get information on potential careers, their anticipated growth rates, and the degrees needed to pursue them.
Download Online Experience Guide
Learn what you can expect from your experience at Champlain College Online.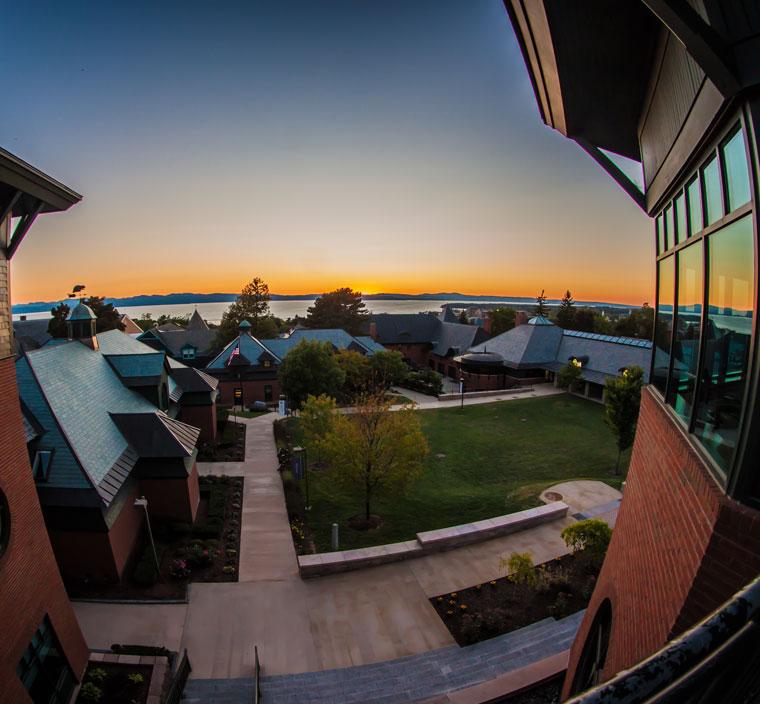 Online Experience Guide Download
Learn more about what you can expect from your online experience at Champlain.