Champlain College Online has been named a "best online college" multiple times, by a variety of organizations, outlets, and websites that monitor and rate online colleges, such as U.S. News and World Report, since we started our first online program in 1993. But what is it that truly makes Champlain College a top school?
There is some debate in the field about what exactly makes up the criteria by which online colleges are rated, but most agree that engaged and experienced faculty, student support, a high-quality curriculum, accessible and dynamic classrooms, and regional accreditation are essential to creating a top online college.
What Makes a Best Online College?
1. Engaged and Experienced Faculty 
The quality of a teacher can have a significant impact on a classroom experience, and this is even truer when it comes to online education. Because they don't have the benefit of face-to-face interaction, online instructors must work twice as hard to create meaningful connections with their students and demonstrate their engagement. They must be present, accessible, and able to create a rapport through written communication, since this is largely how they will be interacting with their students.
Additionally, teachers for online courses must provide high-quality instruction. Champlain's faculty are selected based on educational knowledge and teaching skill, and all of them have solid professional work experience and industry experience in the subject areas they are teaching. Champlain has worked hard to find instructors who are not just experienced in their fields, but truly passionate about the subjects they teach. This passion leads to a commitment to quality and continuous improvement, so students can rest assured that they will always be receiving the most relevant, up-to-date education possible in their fields. It also leads to faculty engagement - because they care about their subjects, their students, and their classes, they are constantly willing to go above and beyond. Students can expect individual attention and weekly personalized feedback from all of their courses, something that isn't always the norm in the online higher education world.
Because of their accessibility and engagement, many Champlain students form close bonds with their instructors over the course of their degree programs that last far beyond graduation. Whether it's in the form of a supportive conversation or assistance in working through challenging course material, instructors are always willing to help students succeed, reach completion, and meet their personal and professional goals.
2. Student Support
It's essential that online students have access to the same support services available to on-campus students, in addition to support services that address their unique experiences as students in a virtual classroom. These include being able to rely on instructors for additional support outside the classroom; having an advisor or other mentor to help guide them through their coursework from day one of enrollment to graduation; and having access to traditional support services such as academic tutors, writing assistance, in addition to the technical support that an online program necessitates.
Champlain College Online specializes in adult learners, and so we truly understand that attending college as an adult with a busy schedule - whether you're returning after years away from the classroom, or starting out on a degree program for the first time - can be challenging. That's why, in addition to having the highest-quality faculty to provide academic support and small class sizes to emphasize individual attention, each Champlain student is assigned to one of our focused, skilled academic advisors as soon as they are accepted to the college. These advisors play an important role in helping students achieve their goals, and work closely with their advisees from day one until graduation, helping with them with everything from the details of their program to time management.
Beyond that, all Champlain College online students have access to a variety of other support services, including Champlain's career services center, 24/7 real-time online tutoring services, Champlain's online writing center, technical support, and a robust alumni network. We are committed to help our students succeed, and will do everything it takes to help students achieve degree completion.
3. High-Quality Curriculum
Champlain College Online prides itself on meeting the call for high-quality, career-focused higher education. Every one of our online degree programs was carefully designed with adult learners in mind, focusing on the areas of study and skillsets that are most in-demand in today's job market. Our courses keep a strong balance of theoretical learning with practical, hands-on knowledge, ensuring that every class is applicable from day one to our students' careers. Every program outlines clear competencies that students will acquire by graduation, and offers immediate professional relevance, real-world application, and collaborative instruction.
In addition, Champlain understands the importance of a well-rounded education, which means students not only gain skills and knowledge in their field of interest through their coursework, they enhance their soft skills like critical thinking, problem-solving, and communication, which are essential for every working professional today, regardless of their field.
This commitment to quality extends beyond the classroom: Champlain believes that the quality of each student's journey is enhanced when clear and consistent expectations are made and reinforced across the academic experience. That's why Champlain College Online has a dedicated quality assurance team monitoring a variety of metrics to ensure quality across the board, from classroom experience to faculty performance to assessment relevance.
4. Accessible and Dynamic Classrooms
At the core of the online college experience is the online classroom. This is where students come every day (and often, multiple times per day) to access course readings, participate in discussions, interact with classmates and professors, and complete assignments, so it is essential that the experience of using it be consistently positive. Though every user's standards and needs are different, at a minimum, the online platform should be accessible, intuitive, and easy to use, while also offering key tools to help students stay engaged and succeed.
So what does that look like in practice? At Champlain, we have distilled the online classroom to two key factors which we believe are essential to a positive user experience, with the first being accessibility. Our online learning platform is accessible from anywhere that students have access to the internet, and can be used on a laptop, tablet, or phone. This makes it as easy as possible for students to log on and participate, because they can do it from anywhere - during their commute, on their lunch break, or after their kids have gone to bed.
The second key factor is an engaging classroom experience. Students should want to log on, so relying on a static, boring platform won't work. Champlain has designed an innovative online classroom that's filled with discussion and interaction, with a learning model centered on discussion forums where students can engage with one another, in addition to their professors. This not only gives online students the opportunity to connect with their peers in a meaningful way, but also to gain exposure to new ideas and different perspectives through dynamic conversation.
5. Regional Accreditation
There are many factors to consider when selecting an online college, but perhaps the most important is regional accreditation. Accreditation is a voluntary process that colleges and universities undergo to ensure they meet specific higher education and organizational requirements. Accrediting agencies examine each institution's academic programs, financial conditions, governance/administration, admissions and student services personnel, resources, and student academic achievement, among other areas.
Regional accreditation is the most rigorous, and therefore most highly regarded, form of accreditation and educational institution can achieve. It assures prospective students that the courses and programs a college offers are of high quality and value, allows students to access federal financial aid (and often employer tuition reimbursement, as many businesses will only reimburse tuition for institutions that hold a regional accreditation), and ensures the largest possible number of colleges or universities will accept your transfer credits. Regional accreditation is strictly monitored and reviewed by a board of higher education professionals, and there are six regional accrediting bodies in the United States.
Champlain, for example, is accredited by the New England Association of Schools and Colleges, Inc. (NEASC), through its Commission on Institutions of Higher Education. This means that Champlain has met or exceeded NEASC's criteria for the assessment of institutional quality periodically applied through a peer review process. 
While there are many other factors to consider when choosing an online degree program - such as your financial options and whether the degree program you're considering will set you up for career success - the characteristics listed here are an essential starting point to help ensure that you select the best online college to meet your needs. 
Download Online Experience Guide
Learn what you can expect from your experience at Champlain College Online.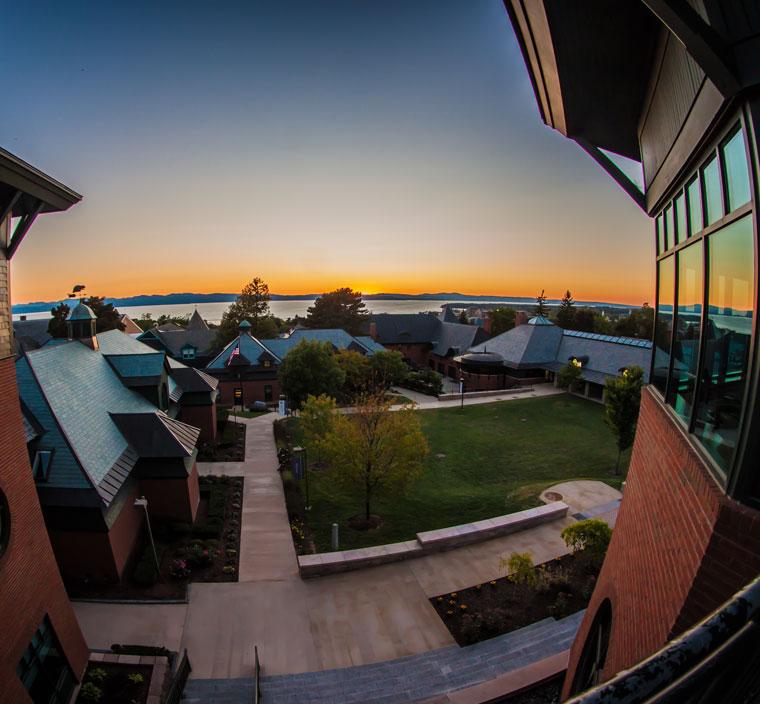 Online Experience Guide Download
Learn more about what you can expect from your online experience at Champlain.