In industries of all kinds, there's considerable demand for higher-level positions that require—or strongly prefer—an advanced degree, such as a master's of business administration (MBA). According to the 2021 Corporate Recruiters Survey from the Graduate Management Admissions Council (GMAC), 91% of recruiters plan to hire employees with MBAs this year.
Applicants with MBAs are in demand for a reason. In this post we'll explore four key reasons an MBA matters to both employers and your own professional development, including salary, skills, and specializations.
An MBA Can Increase Your Earning Potential
One common reason people pursue an MBA or advanced management degree is to advance in their careers; along with that often comes an increased earning potential.
Professionals holding an MBA often out-earn their bachelor's-level peers; GMAC reports that the national average salary for MBA graduates is $115,000. This is 77% higher than the average salary of bachelor's degree holders, which checks in at $65,000. Further, the GMAC survey illustrates how investing in an MBA can pay off over time; with lifetime earnings of $3 million more than having a bachelor's degree alone.
While salary for MBA graduates is often a major factor, there are other solid reasons to consider returning to college for MBA completion.
An MBA Enhances Your Leadership Skills
Another reason to get an MBA is for the soft skills it can build. Honing your communication, interpersonal, and decision-making skills can make you a better, more effective leader. Referring back to the GMAC study, employers rank "learning, motivation, and leadership" as a top skill employers seek in MBA graduates. The report breaks down the response for three industries:
Consulting: 87%
Technology: 81%
Finance/Accounting: 75%
Also ranking at the top were interpersonal skills, decision making process, and strategy and innovation. An MBA curriculum will build these in-demand skills through a variety of courses. For example, in Champlain College Online's MBA program there's a course called "Self as Values-Driven Leader," which allows you to explore your own sense of self and ways to build positive habits of the mind.
An MBA Gives You Financial Knowledge
While you might not work with income statements and balance sheets on a day-to-day basis, you will likely work with, or even manage, people who do. Having a solid understanding of your organization's financial processes will help you make better business decisions and, ultimately, give you a more holistic look at your company.
This was the case for Sam Roach-Gerber. She was working as a consultant for the Vermont Center for Emerging Technologies when she decided to pursue her MBA. She felt she could better serve her clients if she ramped up her business acumen, especially in the area of finances.
"I started my MBA online because I had a lot of street smarts in business after years of working with start-ups, but was missing the foundational knowledge, especially the financial pieces," Roach-Gerber said in student profile. (You can read her full story here.)
Coursework and case studies in classes such as "Financial Decision Making for Management" and "Survey of Accounting for Managers" will allow you to explore finance through a leadership lens.
An MBA is Highly Applicable to a Wide Range of Industries
One of the biggest benefits of an MBA is that it's relevant across industries and job functions. No matter what industry you're in (or want to join), there's a need for qualified, resourceful leaders at every level. So whether you're looking to advance in your current field or want to explore new opportunities, pursuing your MBA can give you a competitive edge.
A few industries are specifically on the look-out for more MBA graduates. According to the 2021 GMAC survey, the technology sector saw a significant increase in demand for MBAs, with 96% of tech recruiters reporting they plan to hire employees with this advanced business degree. This is up from 80% in 2019. This means graduating with an MBA in information security or another IT-related focus could be appealing to recruiters.
Data from the U.S. Department of Labor's Bureau of Labor Statistics (BLS) shows that medical and health services managers are in incredible demand, with an expected growth rate of 32% through 2030. Concentrating your MBA in healthcare administration is a smart approach if you're looking to use your graduate degree to advance in the healthcare field.
An MBA curriculum is typically broad, covering many aspects of business, from finance and management to analytics and ethics. However, based on your career goals and professional interests, a specialized MBA degree might also give you an edge in a specific industry or type of position.
To meet the ever-changing demands of today's marketplace, you can now complete your MBA faster than ever with our new 30-credit MBA program or, for just three additional credits, you can stand out from the crowd by adding a graduate certificate to your degree in our 33-credit MBA program that offers a range of concentration areas, including:
Reasons to Get an MBA Online
Investing in an MBA pays dividends in many ways. If you're a working professional, it can be a challenge to balance a school schedule with the demands of everyday life. However, you can find high-quality, 100% online MBA programs. With its campus-based roots, Champlain College Online offers a range of convenient graduate programs and certificates, including a master's of business administration.
Aside from 24/7 access to your course materials, earning an MBA online has another compelling benefit: It can enhance your technical proficiency and digital communication skills. In a day of remote and hybrid work, even if you're an in-office employee, you're bound to work within cloud-based programs, use video conferencing and chat tools, and collaborate with colleagues from afar. The skills you develop just by participating in online classes will benefit your professional life, too.
There are many benefits to earning your MBA, from boosting your confidence to boosting your earning potential. Learn more about Champlain Online's flexible MBA programs here.
Download Online Experience Guide
Learn what you can expect from your experience at Champlain College Online.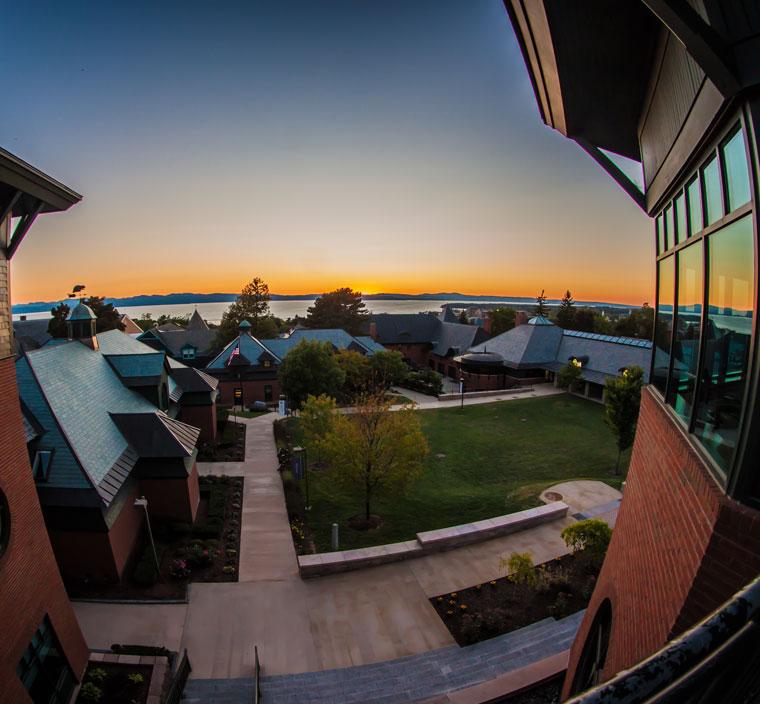 Online Experience Guide Download
Learn more about what you can expect from your online experience at Champlain.