Explore Leadership
Transform your career as a strategic leader through progressive management techniques. Champlain's online master's degree in leadership combines a variety of powerful approaches to leadership, change and learning (including strengths-based change, distributed leadership, and integrated reflective practice) to help you build adaptive strategies, innovation, success-oriented culture, caring and respectful relationships, and positive social impact within an organization. 
Build Your Career Future
In today's workplaces - across all industries and sectors - leaders with strategic, organizational, and tactical leadership abilities, cultural and ethical knowledge, and a focus on creativity, innovation, and success are in high demand. Through this program, you'll build an individualized approach to leadership, in addition to advanced soft skills such as communication and critical thinking. You'll be able to apply your skills to the workplace from day one, and will build the foundation needed to advance in your career as a strategic leader.
Take the next step
Apply (It's FREE & FAST!)
Academic Excellence and Recognition

Regionally accredited by the New England Commission of Higher Education

Ranked among the Best Online Bachelor's Programs by U.S. News & World Report

Designated as a Military Friendly School for our commitment to the military community

Named the among the best schools with accelerated bachelor's degrees by Intelligent.com
Prepare For What's Next By Building Your Leadership Skills
As baby boomers begin to retire, organizations are actively seeking individuals with the skills to lead at the middle, senior, and executive management levels. With a valuable combination of strategic leadership skills, subject matter expertise, and critical soft skills, graduates of Champlain's master's in leadership program will be prepared to step into leadership roles in organizations of all sizes, across all sectors.
Master's degrees are in high demand and employment in master's-level occupations is projected to grow by 15% from 2019 to 2029. A master's degree also pays off: the median salary for professionals with a master's degree is $78,210.*
*Sources: Bureau of Labor Statistics (BLS), 2020; job titles: Payscale, 2020
What Can I Do WIth A Master's in Leadership?
C-Level Executive
HR Manager
Program Manager
Operations Manager
Training and Development Manager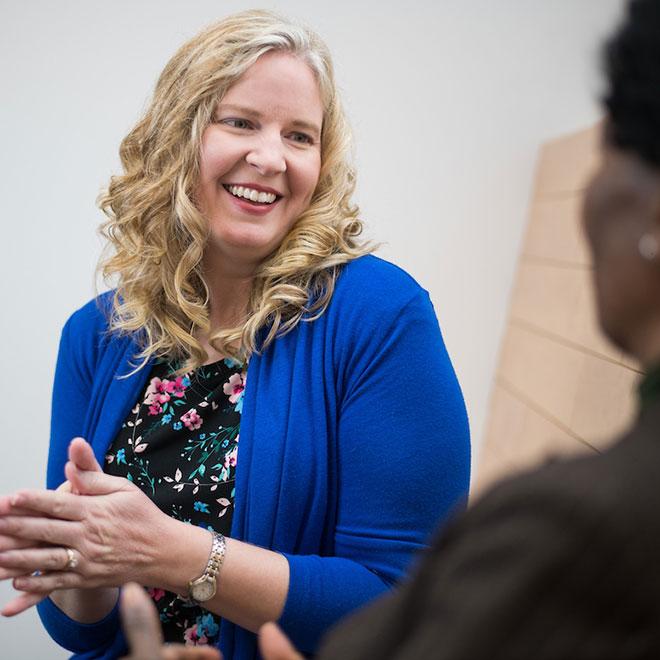 Program Details
Learn more about Champlain's 100% online master's in leadership program, designed for working professionals.
Champlain's online leadership courses encompass the top skills needed by today's business leaders.
Leadership Courses (30 Credits):
Explore the formal and informal communication strategies that help leaders influence beyond their formal authority. Topics will include how to have generative conversations, communication tactics for engaging stakeholders, cross cultural communications, managing conflict, building impactful narratives that engage and inspire, and the impact of technology on communication in today's organizations.
Explore how to strategically lead continual organizational evolution and apply new business models needed for success in today's ever-changing world. Attention will be given to leading sustainable growth with an intraprenurial mindset, managing disruption, the implications of the digital transformation on organizations, and the power of leading with a purpose.
Explore how to uncover creative insights and innovative solutions for today's organizational challenges. Learn about the systematic process of design thinking from a human-centred approach, including how to cultivate creativity in others and create a culture of innovation.
Explore current theories and models of organizational change. Learn how to lead an organization through a generative process of self-reflection, redesign, and change that results in sustained effectiveness, organizational learning, and higher performance. Tools such as the balanced scorecard as well as other qualitative and quantitative metrics will be explored.
Examine how to cultivate meaningful relationships across an organizational system, from co-workers, to team members, to broader stakeholders. Attention will be given to how to leverage both formal and informal relationships to create positive impact. Topics include perceptions, motivation, emotional intelligence, building teams, and conflict management.
Explore how to accelerate organizational change by focusing on and leveraging the core strengths of individuals and the collective system. Learn how to challenge the traditional deficit mindset that pervades organizations, and how to use evidence-based appreciative practices to cultivate shared leadership across a system.
Explore concepts and frameworks for how to lead effectively in today's ever-changing world. Using an integrative reflective practice approach, students examine their own approach to leadership and create an initial plan for their own leadership development, as well as the leadership development opportunities for their organization.
Explore organizational dynamics from a holistic viewpoint and how leading ethically and socially responsibly results in enhanced performance at the individual, group and organizational levels. Special focus will be given to exploring one's own ethical orientation, issues of diversity, equity and inclusion, as well as how leading with a higher purpose can result in both accelerated organizational and broader social impact.
An introduction to a special topic, theme, or issue related to leadership. The subject will vary from semester to semester, depending on current trends and emerging best practices from the field.
This course culminates in an applied leadership capstone project to support the translation, application and synthesis of core concepts from previous courses to a final capstone project, through action research and reflection. The project will reflect a real-life situation and will include a description of the situation, stakeholder mapping, identification of key leadership opportunities and challenges, and conceptual basis for recommendations derived from data collection as well as prior learnings and content from the Leadership Program.
In addition to developing advanced communication and analytical skills, and a strategic mindset, graduates of the leadership master's online program will demonstrate a mastery of the following industry-specific competencies:
Develop and expand both individual and collective leadership competencies
Understand, apply, and integrate key leadership areas, such as distributed leadership, strengths-based leadership, innovative strategy, relational and collaborative cultures, ethical leadership, adaptive learning, and communication
Apply leadership skills through integrated and reflective practices
Assess and respond adaptively to system dynamics both within and beyond the organization
Champlain College Online's leadership faculty, led by Faculty Lead Lindsey Godwin, PhD, are expert practitioners in the field. Their industry expertise ensures that our master's in leadership curriculum is aligned with the needs of employers, and reflects the skills today's leaders need for success. Classes led by our seasoned experts will give you real-world insight into the field and create a rich community of career-focused learning.
Alumni of the Champlain College Online master's in leadership program work in corporations, small businesses, government organizations, and non-profits nationwide, including:
AT&T
Booz Allen Hamilton
City of Burlington
Comcast
Dartmouth Hitchcock Medical Center 
Dealer.com
Department of the Army
Department of Homeland Security (DHS)
Federal Bureau of Investigations (FBI)
GE Healthcare
GlobalFoundries
Kaiser Permanente 
National Life Group
Office of Personnel Management (OPM)
Rockport Police Department 
University of Vermont 
U.S. Marshals Service
U.S. Treasury
UTC Aerosystems 
Vermont Air National Guard
Titles our alumni hold include:
Alignment Coach
Assistant Chief
Associate Director of Admissions
Capital Improvement Program Manager
Department Administrator
Deputy US Marshal
General Manager
Logistics Readiness Squadron Chief Enlisted Manager
Mission Support Specialist 
Operational Supervisor 
Program Analyst 
Program Specialist 
Quality Inspector
Sales Effectiveness Manager
Site Director
Special Agent 
Strategic Planner
Supervisory Intelligence Analyst 
Training Specialist 
Unit Leader 
Vice President 
Increasing your career mobility is at the center of everything we do. As an online master's degree student, you get free access to the Fast Start Formula Career Bundle for getting noticed and getting hired, taught by Jen Morris, a leading executive career coach that partners with us to support our students in their job search journeys. 
Tuition & Costs
Graduate Tuition Fall '23 - Summer '24
$450
per credit military service members (family members see truED tuition)
$150
One-time graduation fee
*Based on a 3-credit course; cost will vary if course is a different number of credits
Affordability
Cost shouldn't be a barrier to going back to school. We provide a number of options to make your online education affordable.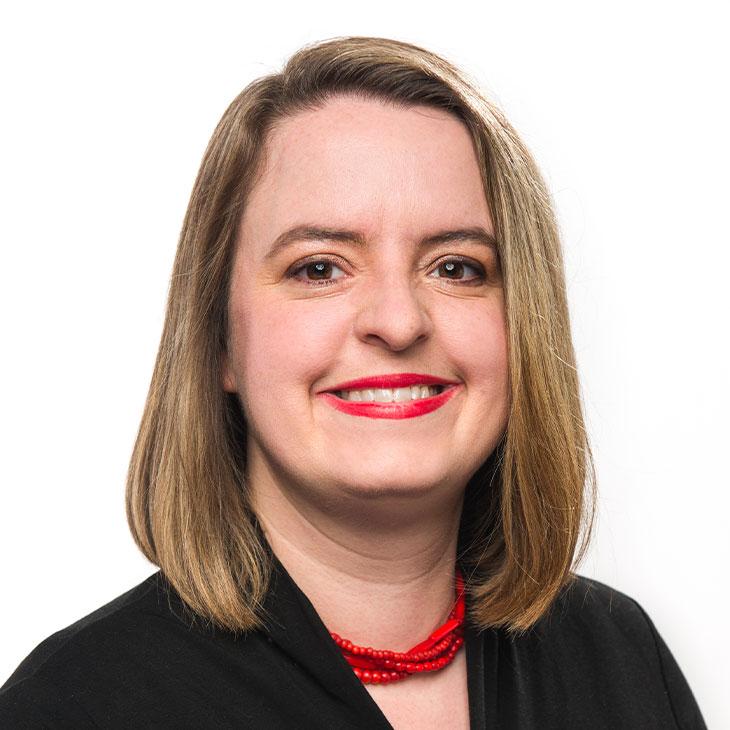 About
Dr. Lindsey Godwin is the Robert P. Stiller Endowed Chair of Management at the Robert P. Stiller School of Business. She holds an MS in Conflict Analysis and Resolution from George Mason University and a Ph.D. in Organizational Behavior from the Weatherhead School of Management at Case Western Reserve University, where she studied with David Cooperrider and Ron Fry, the thought leaders in Appreciative Inquiry.
Before coming to Champlain, Dr. Godwin served as a research associate for the Center for Business as Agent of World Benefit (B.A.W.B.) at Case Western Reserve University (now the Fowler Center for Sustainable Value) and remains a creative contributor to the Fowler Center today. Her work has been published in a variety of journals and books, such as the Oxford Handbook of Positive Organizational Scholarship. Dr. Godwin was recently a Journal of Business Ethics guest editor for a special issue on positive organizational ethics; she also served as guest editor for a special issue on advances in the AI Summit for the AI Practitioner Journal. Dr. Godwin is an editor and contributor for the fourth volume in the research book series Advances in Appreciative Inquiry.
Dr. Godwin has presented at national and international conferences, including the Annual Academy of Management Meetings. She has served as co-chair for past World Appreciative Inquiry Conferences held in Orlando, Florida and Kathmandu, Nepal and on the Advisory Board for the conference in Ghent, Belgium as well as a 2015 conference in South Africa. With a passion for helping organizations leverage their potential through strengths-based change, Dr. Godwin has consulted with organizations including Green Mountain Coffee Roasters, the Vermont Federal Executive Association (VTFEA), World Vision, the Houston Independent School District, the California Teachers Association, Imagine Nepal, the United Nations, the American Society of Association Executives and the Leahy Center for Lake Champlain.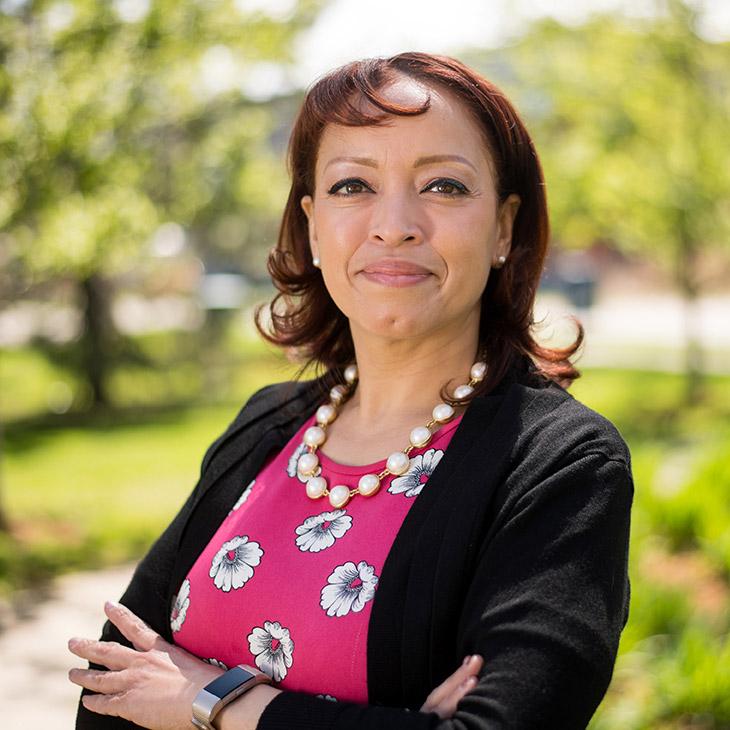 Career Growth
"I had been wanting to take a management position in my organization, so the master's in executive leadership was a great fit for my goals. I was able to apply what I learned to my work, and it helped me shine. As soon as I finished the program, I was promoted!"
Jiri Cruz
Master's Degree in Executive Leadership
Management & Program Analyst
You may also be interested in
Download Program Guide
Learn what you can expect from our online master's in leadership program.